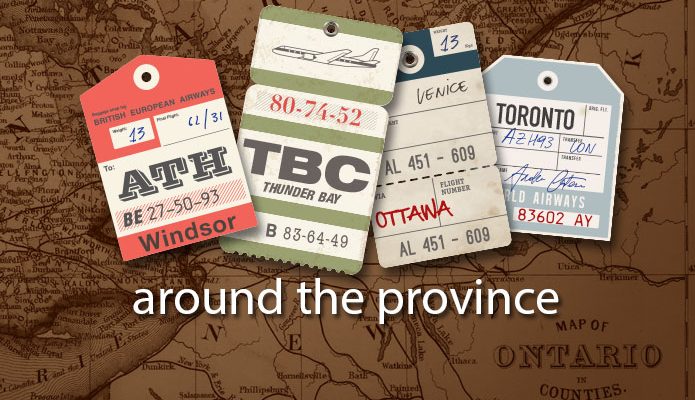 University of Toronto Expands Orientation
University of Toronto (UofT) Libraries expanded its orientation activities this year. In addition to the various libraries holding their own orientation events locally, the Student Outreach Group, chaired by Heather Buchansky, Student Engagement Librarian took part in the following events to welcome new students and promote our collections and services: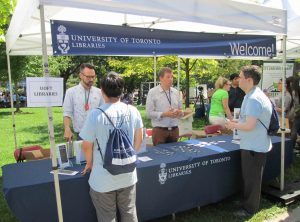 Graduate Student Union BBQ on September 2nd: Live music and food were enjoyed by new and returning graduate and PhD students.
School of Graduate Studies Grad Info Day on September 2nd:  a panel of UofT librarians answered questions from incoming graduate students
University of Toronto Student Union (UTSU) Clubs Fair on September 3rd from 10:00 am to 3:00 pm: UofT librarians staffed a kiosk to welcome students and answer questions. Pamphlets, buttons, and magnets were distributed.
UTSU's Street Festival on September 9th from 10:00 am to 3:00 pm: St. George Street was closed from Harbord Ave. to College St. to make space for vendors, food trucks, clubs and services. New students were welcomed and introduced to activities and services that will make their stay at UofT successful.
CIE (Centre for International Experience) 'Step Up' Pre-Orientation: U of T librarians welcomed 90 international students from all corners of the globe in a 2-hour session that involved getting to know the libraries both physically and virtually, with a tour of Robarts Library, and how to navigate the library website.
Maria Buda, BA (Classical Studies, University of Waterloo), MISt (University of Toronto), is a Librarian at the Dentistry Library, University of Toronto. Her interests include mobile device use in health sciences, information literacy, and knowledge translation. She is the OCULA Representative (2011) and OCULA Ambassador (2013) at U of T.