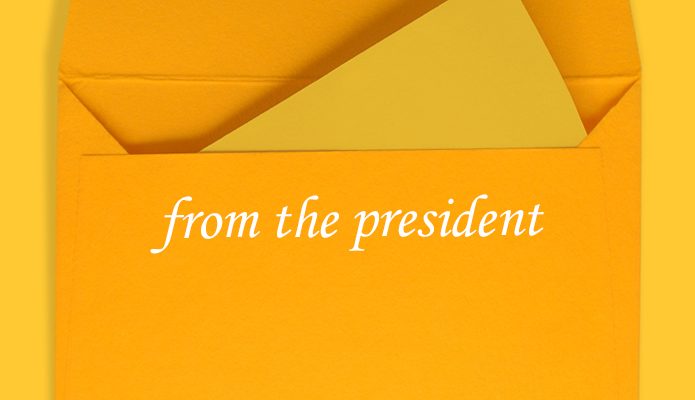 Value, Influence, Positioning: Advocacy by a New Name
Value, influence, positioning. These three words framed the discussion at the OLA Advocacy Committee's VIP Summit last February, and characterize OLA's strategic approach to advancing the role of libraries. Old-style advocacy often constituted telling decision-makers what libraries needed from them. The new flavour of advocacy flips this approach to one that focuses on demonstrating the positive and unique impact of libraries on our constituent communities.
Value: Demonstrating Impact
Certainly we are all familiar with evidence-based practice, where the decisions we make are based on sound research and real evidence in practice. Applying that notion to advocacy puts the onus on us to demonstrate that what we do has a positive impact in the greater communities that we serve.
I will never forget my early shock therapy in this approach. I attended a session for school library leaders several years ago where respected scholar Dr. Ross Todd, in his inimitable, energetic style, admonished us to jump down off our soapboxes and start advocating with the evidence. As he subsequently made very clear in his Evidence-based manifesto for school librarians, that evidence needs to be about our impact on learning. We need to clearly understand our mission in terms of the larger goals of education, and be able to demonstrate our unique contribution to student achievement, well-being and personal and social growth.
I can't tell you what a great impact his message made on my own thinking about demonstrating the value of libraries, no matter the sector. Our goals need to be aligned with those of the communities we serve, and we need to be able to tell our success stories in terms that are meaningful to our larger constituencies.
Influence: What We Do for You
As so many of us understand, it remains, however, a huge challenge to get the ear of the decision-makers, no matter how much we strive to align with their goals. This is one area where OLA is making great strides. Our approach is proactive in making strategic connections with the ministries and organizations that govern or influence our library sectors. The provincial inter-ministerial public library discussion forum at last year's Super Conference extended the positive relationship already established between library organizations and the Ministry of Tourism, Culture and Sport. It achieved its goal of helping officials from other key ministries realize the potential of working with public libraries to implement government goals, policies and programs.
Similarly, over the past year the Ontario School Library Association has made great strides in working with the Ministry of Education at the policy and program levels. There is an emerging sense that decision-makers in education have a new appreciation for the potential of the school library learning commons approach in advancing Ontario's new vision for education.
Positioning: Building on Credibility to Advance Libraries
One of OLA's key successes is in connecting library professionals across all sectors and specializations. Participants in the VIP Summit discovered that although our institutions' missions may vary, our practice is built on shared values. American Library Association Past President Barbara Stripling describes this as an ecosystem of libraries, interdependent in how we influence people at various stages of their lives.
Library Day at Queen's Park
We are pleased to announce that the Ontario Library Association is busy planning our first ever Day at Queen's Park to be held Wednesday November 26th. Our goal is to position libraries' positive impact on Ontario's prosperity, sharing our message with politicians from all parties. Working with government relations consulting firm Impact Affairs, our key message will focus on the relevance of libraries to the Ontario government's agenda. Barring any unforeseen changes to the government calendar, Library Day at Queen's Park will take place late in November. We'll be sharing further news about this most exciting initiative in future editions of Open Shelf.
I am very excited about this initiative, and see it as a huge step in OLA's strategic priority of collaborating to extend libraries' strategic voice. Our goal is that Ontarians view libraries as essential contributors to the economy, education, lifestyle and culture of their communities – the ultimate VIP approach.
Anita Brooks Kirkland is the 2014 president of the Ontario Library Association. With thirty years of experience in public education, Anita is now an independent consultant for libraries and learning. She is also a school librarianship instructor for the Ontario Institute for Studies in Education (OISE), University of Toronto. Learn more about Anita at: www.bythebrooks.ca.