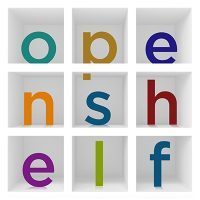 What's New in Open Shelf: April 15, 2016
What's New in Open Shelf? is a Table of Contents of sorts. Open Shelf publishes when we have compelling new material. Every two weeks is our plan.
In this release we feature the revenge of Snuffy (!), sustainability, Textbooks for Change, Mallory Austin, Loan Stars, and the CLA Forum. 
John Pateman's new article in his Open for All? column is about Snuffy's Revenge. Yes, Snuffy. Either John has finally lost it or this is an intriguing insight in the current state of libraries.
Cortney Lee-Comeau is passionate about sustainability. How could she use her expertise in her new workplace? Find out in It's Not Easy Being Green: Sustainability at the Huntsville Public Library.
Textbooks for Change is an innovative program to provide current (but used) textbooks to university libraries in developing countries in East Africa. Brady Burke provides an introduction in Textbooks for Change: Creating an Impact with Used Textbooks (including interviews with Adam Frye, Director of Business Development & Cori Moretti, a Textbook for Change Ambassador).
This release of Open Shelf feature a new column from the Ontario Library and Information Technology Association (OLITA) authored by Sarah Macintyre: The Library IT Crowd. The column will showcase some of the great librarians and library workers who are currently working with technology. The first installment introduces Mallory Austin from the Middlesex County Library.
Have you heard about Loan Stars? Wondering what all the fuss is about? Kristen Caschera provides the details in Loan Stars – A New RA Tool for Library Staff.
And finally, an editorial about Why You Should Attend the Canadian Library Association (CLA) Forum.
As always, let us know what you think of Open Shelf.
…Mike Ridley
Editor-in-Chief, Open Shelf
@OpenShelfOLA