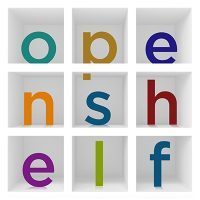 What's New in Open Shelf: July 15, 2015
What's New in Open Shelf? is a Table of Contents of sorts. Open Shelf publishes when we have compelling new material. Every two weeks is our plan.
In this release we feature inequality, leadership in accessibility, volunteering, YA fiction, and RA comfort zones.
In his always thoughtful Open for All? column John Pateman explores Inequality and suggests there is a relationship between income equality and library visits.
In the first of a special four part series exploring accessibility issues through different lenses, Katya Pereyaslavska examines Leadership and the Development of Library Accessibility Policies.
Volunteering in an academic library changed Jeremy Dechert's career path. Find out how and why in Let Them In: Volunteers in Academic Libraries.
YA fiction often deals with difficult and sensitive issues for teens. But library staff can be uncertain about which books to recommend. In the first of a special series, On the Edge: YA Fiction,  Samantha Marchello guides us through the landscape, offering insights and recommendations: All the Tough Topics: Sensitive Issues in Young Adult Literature.
And speaking of comfort zones, getting out of them is always a good idea. In this latest installment of the Readers' Advisory column, Julie Wendland describes the value of Reading Outside Your Comfort Zone.
Looking ahead, Open Shelf will celebrate 1 year of publication in August. To recognize this we will be issuing a "best of" special release on August 1st (how can we possibly choose?). After that, we are taking the month off to recuperate. Next release of new material is September 1st.
As always, let us know what you think of Open Shelf.
…Mike Ridley
Editor-in-Chief, Open Shelf
@OpenShelfOLA