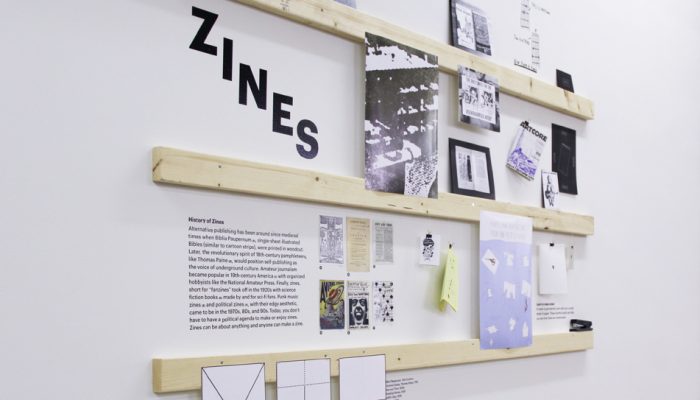 The Chattanooga Zine Library
The Chattanooga Public Library is a champion for the new role public libraries play in the 21st century. There is no place where this commitment is more evident than CPL's flagship initiative, The 4th Floor. Here is a space (14,000SF!) that is at once a platform for the community and an internal innovation proving ground. What works upstairs on the 4th Floor can be deployed to other parts of the library system across the city and into the neighbourhood branches.
Now heading into its 2nd full year, The 4th Floor continues to grow organically and in response to our community's interests and strategic partnerships. While we have become known for our in-demand high tech creation tools like 3D printers, laser cutter, and vinyl cutter, in 2015 we are already on our way to become a destination for traditional creative tools like sewing machines, surgers and floor looms, power tools and soldering, and self-publishing.
Right now our initiatives in self-publishing are centered around The Chattanooga Zine Library and zine-lab. Zines are mostly small-scale amateur publications depicting content that simply cannot be found through mainstream publishers. Zines can be about anything. They come in a variety of genres, including: perzines (personal journals and oral histories), fanzines (with topics that vary from pop culture to anime to sports), collections or taxonomies, politics, journalism, art and design, comics, literature, poetry, cooking, travel, and music.
Zines will be particularly interesting this year in the maker space because of the potential to maximize collision points from around The 4th Floor's many creative workstations. This year we'll be running workshops to show zine makers of all skill levels how to use the laser cutter to die-cut custom pages, or cut material for block printing; we'll experiment with the sewing machines to learn unique bindings and interior embellishments for zines; with the vinyl cutter we'll make stencils and other designs that can be used on covers. Even the 3D printers have the potential to inform interesting approaches to creating textures, among other ideas.
The Chattanooga Zine Library launched in May 2014 as the result of a new partnership with the University of Tennessee at Chattanooga's art department faculty member, Aggie Toppins. Aggie is a graphics design professor at the University and has her own Zine series through The Official Studio and Octagon Press. Experimental publishing is just one of her talents and passions so when Aggie approached our Deputy Director, Nate Hill, last year about this crazy idea she wanted to run with to start a zine library and festival, how could we refuse?
Together we started by putting on the first Chattanooga Zine Fest, the official launch of our new library. The library is a non-circulating collection curated by Aggie and includes some of the best new zine's produced around the globe last year, as well as a healthy collection of donated vintage zines from galleries and private collectors, including many culturally and historically significant punk and political zines. You can read Aggie's thoughts on starting a zine fest, in this recent article published on ZineNation.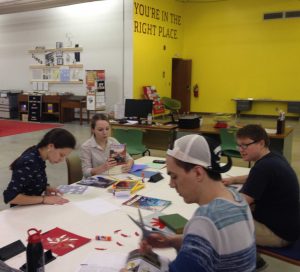 For 2015 we'll be working with some of Aggie's top students who are involved with the University's student-led graphic design club, Society of Ink and Paper. We have just announced the dates for ZineFest 2015 (May 16) and opened the Call For Submissions. Chattanooga Zine Fest 2015 will feature some of the area's best local and regional zine makers; as well as guided and self-directed zine-making activities; zine readings, trading and selling. In conjunction with Zine Fest 2015, The Open Press, a Chattanooga-based letterpress, printmaking and books arts cooperative, will present a book arts exhibit on The 4th Floor featuring a juried collection of handmade books from artists in Asheville, NC and Chattanooga, TN.
Our staff is working closely with the Society of Ink and Paper developing a new series of zine making workshops that will happen on the last Saturday of each month to coincide with a new adult screen printing workshop now offered in the maker space. "Zines and Screens" will be a great opportunity to cross pollinate audiences while building a community of makers and encourage more intersections and creative collisions. We're excited just to get people together to teach a few basics in each medium and see where everyone takes it.
Mary Barnett joined the Chattanooga Public Library in the fall of 2013 to focus on public relations and special projects for the 4th Floor. Her background as a journalist, documentary maker, photographer and public relations professional includes film festival screenings and solo exhibitions of her original work, as well as high profile roles with Virgin Records, MTV Networks and Z-100 radio in New York City. She can be reached at barnett_m [at] chattanooga.gov.