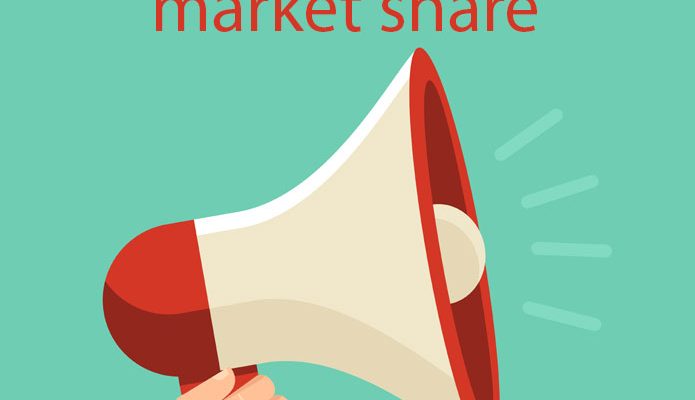 The Ask Girl Marketing Campaign
In the fall of 2014 McMaster University Libraries launched a campaign to promote the Ask virtual reference service. Their work was recognized at OLA's Superconference 2015 by the 'Ask a Librarian' folks from Scholarsportal with an award for Best Marketing Campaign. A superhero mascot called 'Ask Girl' was central to this award winning campaign. Market Share caught up with the campaign's core team, Lynne Serviss, Services Librarian; Anne Plessl, Library Advancement Officer; and Erica Balch, Public Relations Manager all at the University Libraries, McMaster University.

Where did the Ask Superhero idea come from?
Lynne: The original superhero idea came from the Ask Marketing group – we were looking for something that was catchy and fun.  We worked with a graphic designer at McMaster's Media Production Services. The original art came from iStockphoto and our graphic designer modified her look: we changed her skin tone, her hair colour, and her outfit.
What were you trying to represent with the superhero image?
Lynne: We created her in conjunction with the launch of the Ask a Librarian service at McMaster. She was part of a greater marketing plan at the time, which included bookmarks, posters, a life-sized Ask Girl and a cookie giveaway. I didn't intend on her staying! I thought she would only be used for a little bit, but I'm very happy she's still here.
If she was used originally for a different campaign, how/why was she resurrected?
Lynne: In some ways, she never left. The life-sized Ask Girl was never removed from our service desk, and people just kept using her image which was great. I originally thought her shelf life would only be for that campaign, which was over two years ago.
Anne: The Marketing Team was looking for another opportunity to make use of her, and we had the idea of parodying the "travelling gnome prank" or Travelocity's "roaming gnome", by having photos taken of her in various iconic locations on campus and in the City of Hamilton. Committee members Andrew Colgoni (Services Librarian, Thode Library) and Alessandro Erasmi (Library Assistant) did all the legwork and the logistics of taking the photos in the various locations.
So what were you setting out to accomplish in these two campaigns?
Anne: Our intention was to build on the previous campaign and further promote the Ask a Librarian service to students in a fun way.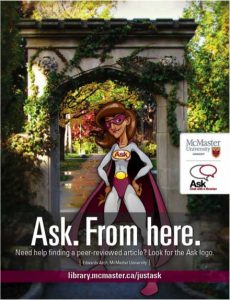 Could you tell us a bit more about the process?
Anne: Once the photographs were done, Andrew created posters that were fine-tuned by our on-campus design and printing department (Media Production Services). For this part of the campaign, we mounted digital versions of the posters on digital screens in the libraries and had printed versions posted in locations all over campus, including washroom stalls (through Zoom Media).
We also decided to do another version of the "roaming gnome" concept by having the AskGirl figure appear in a mystery campus location each day for a one-week period. Our idea was that each day we would tweet out the secret location through multiple channels, so that students could take selfies with her and submit them via Twitter to the #findaskgirl hashtag for an opportunity to win a gift card to the campus store. We planned to choose the best picture of the day for a $25 gift card, and a best picture of the week for a $50 gift card.
On the Friday before the social media campaign was to begin, we published articles on both the University's and Library's news pages, and, thanks to the Office of Public Relations, also had a banner at the header of the University's news page for the duration of the campaign. We also tweeted out teasers about on social media the week before. During the week of the campaign, Erica coordinated the social media part of the campaign using the University's and Library's multiple social media channels.
Although we had done a lot of preparation and had done a lot of publicity around the campaign, we actually weren't able to engage students in significant numbers on the social media side. When we talked to students in the course of the week, we learned that our main assumption, ie that students would be excited to engage in a selfie campaign based in Twitter, was incorrect. Students told us 1) that they generally did not like to have selfies published on a public forum not of their choosing, and b) that Instagram was really their preferred platform for taking and posting photos.
Erica: One thing I would take from this is that it did provide a good model for how to run campaigns in the future. It provided a template to plan out ways to reach students. We learned a lot of lessons that we've used in subsequent social media based campaigns.
What other lessons have you learned from this campaign?
Anne: Overall, we were really happy with the execution of the campaign. A lot of great work went into creating the posters, and we continue to use the images on our digital screens, and will likely re-post printed versions again next year.
For me, the biggest lesson was that if you want to run a marketing campaign aimed at students, especially a social media campaign, it's really important to engage students in the planning process right from the beginning.
Erica: That's a really good point, when we talk about how this has informed future campaigns, we recently did a campaign called Freedom to Read Week and we involved students right from the beginning, because they are the audience we were trying to reach. If you are targeting students, engage students in creating the social media campaign.
Anne: I would also like to emphasize the importance of professional design. Although Andrew and Alex did a great job taking the photos and creating the posters, taking them to a designer after the initial work was done just gave them a more professional and consistent look.
Is there anything you would recommend to other libraries who want to market their virtual reference services?
Erica: Look to tap into a larger social media or public relations department. Look for multiple platforms to promote the event or campaign. Whether it's tapping into the central PR office or tapping into other libraries in the community, or identifying other groups.
Lynne: Give away free food! We gave out about 2000 cookies during the Ask a Librarian launch and that was a success.
Anne: Do something fun, it gets people's attention. It provides a hook to bring people to your message. Be aware that marketing campaigns are a lot of work. To do them well is a really big investment in time.
[Editor's Note: The full collection of Ask Girl digital and print materials is available on
Ad/Lib
.]
Susanna Galbraith is the Virtual Services Librarian at McMaster University's Health Sciences Library. Her professional interests include web usability, user experience and marketing for libraries. You can find Susanna at @su_anna. 
Andrew Colgoni is the Services Librarian at the H.G. Thode Library of Science and Engineering at McMaster University. He is also an instructor in McMaster's innovative Integrated Science program. You can find Andrew at andrew.colgoni.me and @colgoni. 
Would you like to have your marketing campaign featured in Market Share? Contact the authors at galbrai [at] mcmaster.ca or colgoni [at] mcmaster.ca