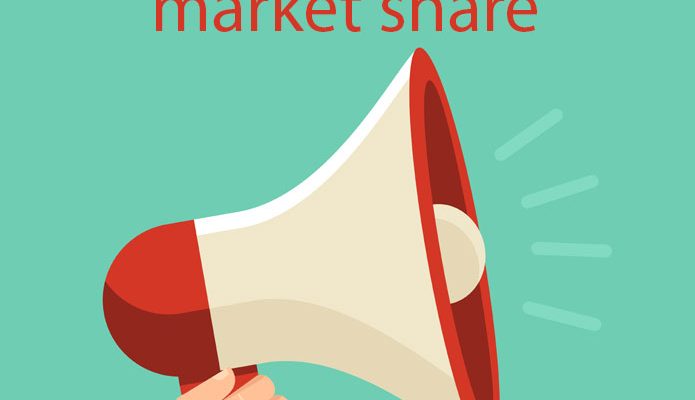 Re-discovering the HWDSB Discovery Centre
The Hamilton Wentworth District School Board (HWDSB) Discovery Centre – formerly Kit Services – began over 30 years ago.  As the school board's education resource lending library, its original purpose was to create and circulate kits of educational resources out to schools.  The Educational Media Library was a companion department, dealing with audio-visual educational resources, like films and other physical media. Back in the 1960s, when Kit Services started, it was as simple as science kits in shoeboxes in a car trunk, but eventually got a physical home in the 70s, and various new locations in the decades since.
In 2011, the HWDSB closed its Educational Media Library after replacing its physical videos with digital. At the same time, there was uncertainty about the future of Kit Services.  This, coupled with Kit Services moving to yet another new location, and a change in name to the Discovery Centre, inadvertently led to confusion about the library's closure. As a result, use of the Discovery Centre slowly declined, circulation dropped, and staffing went from ten to just one full-time and two part-time staff.
A New Partnership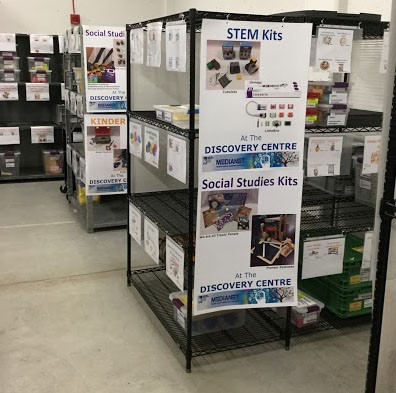 Early in 2015, Donna Millard, Supervisor, HWDSB System Learning Commons, saw an opportunity to partner with Ontario Early Years. The partnership took advantage of a Ministry grant to purchase a significant number of new kits geared towards kindergarten classrooms, which would then be circulated by the Discovery Centre. The partnership was mutually beneficial: Early Years had funding and the need to circulate resources in schools, while the Discovery Centre had the existing technology in the form of a catalogue, the booking method, the delivery system, and the experience running an education resource lending library already in place.  Together, they met the need for staff and students.
With this initial injection of new circulating materials, the Discovery Centre began its re-growth. Over the course of 18 months, 450 new educational kits were added to the collection, almost doubling its size. Simple changes were made to the collection to improve ease of use. Signage was added to make it easier to locate kits, and the kits themselves were better organized. Instead of the Discovery Centre being a storage warehouse, these changes turned it into a browseable library. Donna Millard, together with Colleen Stinson, Senior Learning Commons Technician, continued to promote the Discovery Centre with flyers, open houses, networking and HWDSB's organization-wide collaboration platform – Yammer.
Marketing Strategies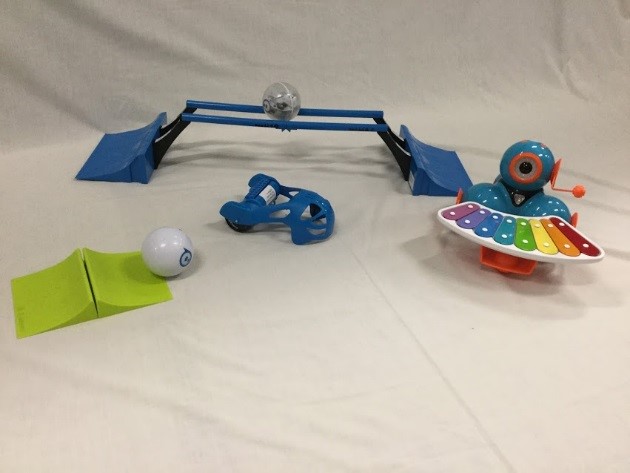 Their new marketing message was integrated into their customer service – every interaction with a teacher or staff member was seen as a potential opportunity to create a relationship and market the resources of the Discovery Centre.  As Donna and Colleen put it, "the Discovery Centre has always been about relationships between our department and the teachers in our schools.  If teachers understand what educational resource kits we provide and why we provide them, they will use our services.  This concept is further underscored by the learning support departments (i.e. consultants, learning coaches, etc.) within our board as they take our message to each and every school. Building new partnerships was a natural extension of the library's existing relationship building strengths".
Getting new educational kits into the hands of teachers, kick-started the best (and most affordable) kind of marketing: word-of-mouth. Teachers and other staff saw Discovery Centre kits in classrooms and asked about them; teachers attended sessions about the Discovery Centre and shared what they learned. Even better, the marketing success is borne out in the numbers: circulation has increased 348% over the past two years.
The Discovery Centre has since been approached by other departments in the school board including Intensive Support Services, Technological Education, 21st Century Learning, Social Studies, Physical Education and others.  The Centre has responded to this interest by developing new kits to meet these particular needs while leveraging the financial resources these departments might have. Some examples of the themes for these kits include: robotics, new Canadians, Aboriginal Canadians, special needs, mindfulness and senses, making, STEM, and storytelling. Soliciting and responding to feedback from users has been an important part of making the kit lending service even better.
Secrets to Success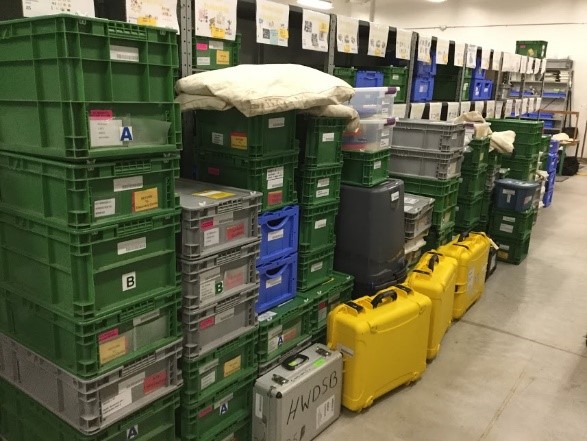 In describing the keys to their success, Donna and Colleen say this: "We constantly share our successes with our partners as well as our superintendents. We promote every new resource we provide.  We communicate with both department contacts and teachers to continue to develop new and relevant resources.  We have an open door policy and invite everyone in to see our success—regardless of how hard it is to find our location off the shipping dock! But we are working on that!".
Taking advantage of partnership opportunities, leveraging grassroots and word-of-mouth marketing has the Discovery Centre setting circulation records every month. Instead of people wondering if the Kit Services has closed, they are talking about how best to use the Discovery Centre, making it one of the most well used resources of the HWDSB.
The authors wish to thank Colleen Stinson and Donna Millard for their contributions to this article.
Susanna Galbraith is the Virtual Services Librarian at McMaster University's Health Sciences Library. Her professional interests include web usability, user experience and marketing for libraries. You can find Susanna at @su_anna. 
Andrew Colgoni is the Services Librarian at the H.G. Thode Library of Science and Engineering at McMaster University. He is also an instructor in McMaster's innovative Integrated Science program. You can find Andrew at andrew.colgoni.me and @colgoni.