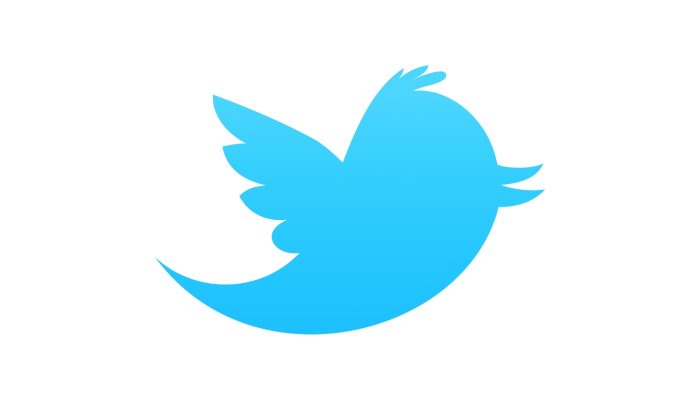 Let's Give Them Something to Tweet About: Applying Best Practices at Western Libraries
In The Librarian's Nitty-Gritty Guide to Social Media (ALA, 2013), Laura Solomon advises that social media is "incredibly easy to learn but can take a long time to master." During our fall 2014 co-op placements we had the opportunity to learn this lesson for ourselves by developing Social Media Best Practices at Western Libraries and a Twitter account for The D. B. Weldon Library.
Here are a few tips for managing academic libraries' Twitter accounts, based on our work at Western Libraries and our presentation at the Lightning Strikes @ OCULA session this January.
Getting Started
If you have decided to start experimenting with social media at your library, remember to take the time to do it right. It's not as easy as jumping on the computer and tweeting once a day. It involves monitoring social media tools, engaging your target audience, and finding relevant content. The first steps? Create a Social Media Policy, identify your target audience, and start planning the content!
Make a Plan
1. Editorial Calendars:
We both found that a monthly editorial calendar was the best organizational tool for content planning. The calendar varied between writing Tweets ahead of time, and simply marking down upcoming library events so they would not be missed. This planning helps on busy days and on days when you simply don't have the energy to be creative or funny (which can be hard to do on demand!).
2. Social Media Social:
In addition to promoting the Twitter account at staff meetings, we started a Social Media Social where interested librarians and library assistants gathered for a coffee break to discuss ideas for future tweets. By meeting outside of the office, we were able to relax and generate some fantastic ideas in a low-pressure environment. The other staff members were enthusiastic and came up with great content ideas which we used for future editorial calendars.
Structuring Tweets
1. Lead with the Benefit to the User:
Make it easy for your Twitter followers to understand why they should care about what your library has to offer. As well as making the incentive clear, this example tweet avoids commanding language, and uses Twitter handles and hashtags to extend the reach of the tweet.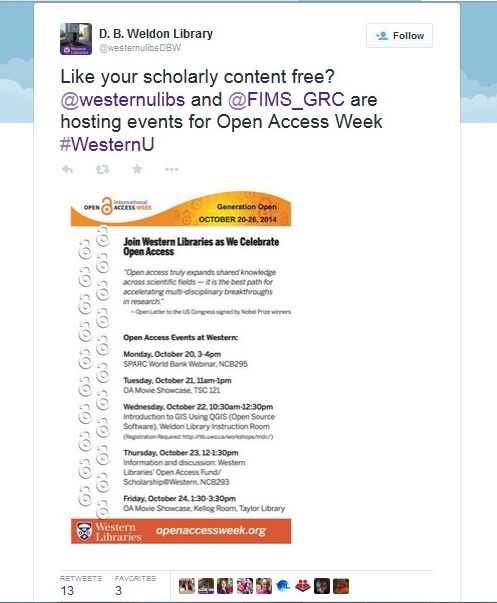 2. Be Entertaining—Humour Resonates with Undergraduates:
Nothing grabs the attention of students like humour does. Whether you find funny images related to the school/specific program, or make a joke to sympathize with their situation, humour often results in successful student engagement.
For example, during exam season, it can be difficult to find seating at The D. B. Weldon Library. Replying to a student's comparison of the struggle to find seating to The Hunger Games, Weldon's Twitter account played along with an infamous wish of good fortune from the series: "May the odds be ever in your favour". This simple reply garnered two "favourites" from this student and one of her friends, showing how a little humour can successfully address complaints and engage students.
Go Forth and Engage
Twitter can – and should- take some work. However, the opportunity to engage with students outside the physical library setting is worth it. Make a plan, experiment to see what works, and have fun.
Megan Sioui is graduating from the MLIS program at the University of Western Ontario this spring. She completed co-op terms at  Bracken Health Sciences Library at Queen's University and at The Office of the University Librarian at Western Libraries, both of which incited her interest in developing engagement between students and libraries. She can be contacted at megsioui [at] gmail.com.
Kristen Lemay is a MLIS student at the University of Western Ontario. She has completed co-op terms at the Library of Parliament and The D.B. Weldon Library (Western Libraries). In her future career, Kristen hopes to lead eLearning initiatives and to continue strengthening libraries' relationships with students through social media. Kristen can be contacted at klemay3 [at] uwo.ca.