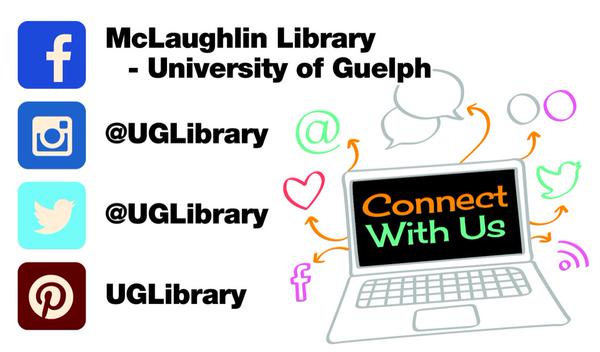 Adventures in Social Media: Lessons Learned
The University of Guelph Library uses social media to interact and have conversations with our undergraduate students and the larger campus community. We want to connect with students on platforms they're comfortable with, in ways that we can't through traditional platforms—like our website. We've learned five key things form our experiences over the last three years.
Committees can work
To better manage workload and incorporate a wide range of perspectives, we run our social media channels by committee. Our group is committed to promoting the library and engaging with students. Responsibilities include attending monthly meetings to discuss analytics and recent successes, brainstorm ideas for the future, and plan upcoming campaigns. The channels are managed on a rotating weekly basis with additional participation in subcommittees for different campaigns.
Celebrate the library and share information
Social media provides opportunities to share news and interesting facts about the library with students in fun and creative ways. We balance our engagement strategies with information sharing so that students learn about what resources they can access, including regular programming, special events, and passive resources (e.g. printing).
Build partnerships
Building online relationships with on- and off-campus organizations is important to us. By retweeting or favouriting other's content, we are helping to increase their reach, a favour that is often returned. To achieve this, we engage with other programs at the library, other campus organizations, and broader external organizations.
Be cool (engagement and popular trends)
Our committee has worked hard to develop a balance between entertaining and information sharing. With so much content and such a high turnover, it is important to show that our accounts are relevant and engaging for students. Too much information can overload students, and too much of a focus on being "cool" can make it seem like you have nothing important to say. It's a tough balance!
Some good, general tips we've learned include:
Create posts that link to other trends like #MotivationalMonday, #TBT (Throwback Thursday); #FF (Follow Friday), etc.
Use pictures, GIFs, and videos as often as is appropriate—they're great tools to engage!
The same approach doesn't work for every platform—we do different things for our Pinterest, Facebook and Twitter accounts. They weren't built to do the same thing, so don't treat them as such.
Measure That
We use a monthly editorial calendar to organize our posts. At first, we wordsmithed posts as a group. We've moved to a more organic process—identifying topics and themes and trusting the weekly poster.
We share an iPad that is connected to all of our social media accounts. It's loaded with picture editing apps (to create collages, add text, etc.). The weekly poster can post from their own computer, but it's helpful for staff to have all the tools in one place. It's also more portable for events.
We use a variety of tools for analytics to gain insight into our social media activity, some from the social media sites themselves (e.g. Twitter Analytics, Facebook Insights), and others from third party platforms (e.g. Crowdbooster, BufferApp). We use our analytics—such as clicks, shares, likes and comments—to celebrate success and learn from failure.
What's next? Social media is always changing and we need to evolve our workflows and approaches. There are a few things on our radar that we want to focus on.
The first is student involvement. Right now we just have a library communication co-op student sitting on the committee. We want to focus on recruitment by creating a specific volunteer position.
Another is both expanding our social media platforms and adjusting our approaches to existing ones. Keeping in mind current trends, we're considering SnapChat and Vine. We're also thinking about how to evolve our Facebook presence because students just don't seem to want to "Like" the library anymore.
We want to use campaigns more regularly, such as a scavenger hunt on St. Patrick's Day. This builds excitement, but also requires a smaller working team to create and manage the campaign. In the future, we want to have more short-term working committees for planned campaigns.
The social media committee at the library has learned a great deal. We've gained insight from across the community and built a collaborative team that focuses on keeping content fresh and sharing the workload. Social media moves quickly and it's key to have a strategy in place while making sure to still have fun!
Melanie Parlette-Stewart is a Blended Learning Librarian, McLaughlin Library, University of Guelph.  She can be reached at mparlett [at] uoguelph.ca. Jacqueline Hamilton is the Supported Learning Group (SLG) Supervisor in the Learning Commons, McLaughlin Library, University of Guelph. Lindsey Robinson is a Library Associate, Learning & Curriculum Support, McLaughlin Library, University of Guelph.