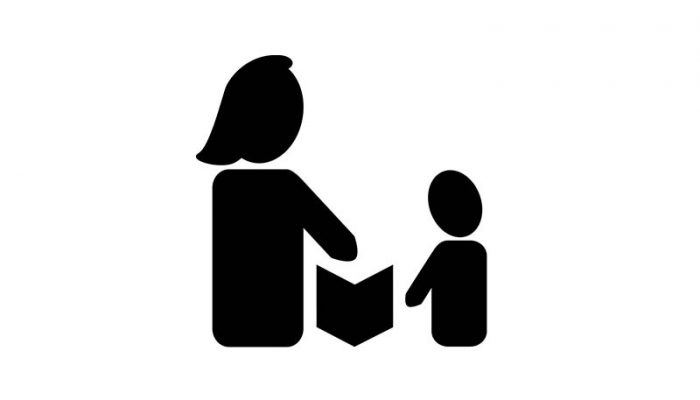 Partnering to Provide Accessible Reading Packs
The Accessibility Services team at the Ottawa Public Library (OPL) is committed to supporting the OPL mission to "inspire learning, spark curiosity, and connect people" by reducing barriers to accessing OPL resources and services.
Accessibility Services team coordinates and delivers training, develops and implements policies and projects, and reports annually on OPL's compliance with the Accessibility for Ontarians with Disabilities Act (AODA). Our team also seeks opportunities for partnerships and programs that help meet the accessibility goals of the Library.

Recently, Accessibility Services partnered with Alternative Learning Styles and Outlooks (ALSO), a community group that focuses on adult and family literacy, to offer new literacy material for children and their parents. OPL and ALSO received funding in April 2014 from the Community Foundation of Ottawa to create Reading and Parents Program (RAPP) kits for the purpose of loaning them out at OPL branches.
Ninety packs were launched at OPL in December 2014, consisting of 15 different titles; popular titles include: The Runaway Bunny, The Snowy Day, Alexander and the Terrible, Horrible, No Good, Very Bad Day, Goodnight Moon, and Brown Bear, Brown Bear, What Do You See? The first format is our American Sign Language (ASL) pack, includes a DVD of a professional sign language interpreter signing the book. This format is great for parents and children in the deaf community who are learning ASL, or can be used as a tool for children learning to talk.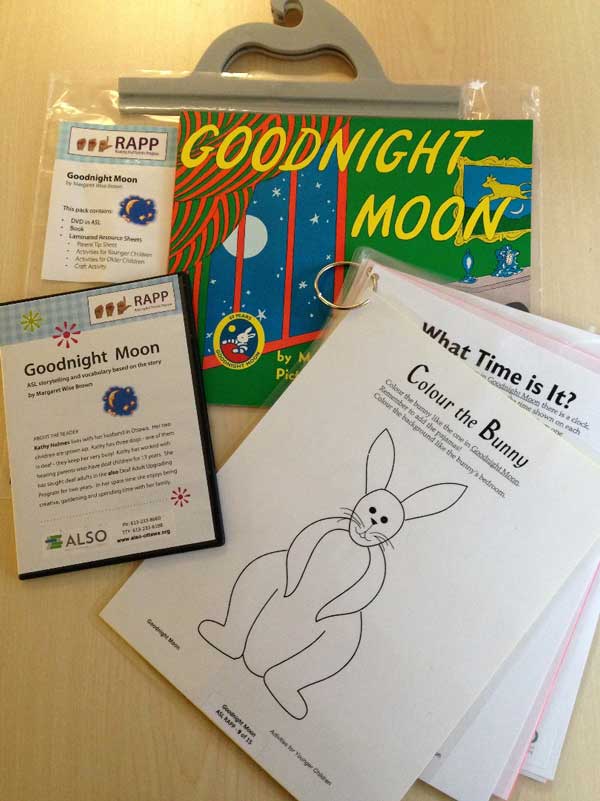 The second format of RAPP packs is our voices pack, which includes a CD discussing the themes of the book and has songs and poems on the CD. The CD is a tool to support family literacy by providing thematic songs, poetry and tips for parents. All packs include a booklet (including tips for parents, games, activities, poems, songs and crafts) which we encourage parents to photocopy for their personal use. The packs are geared towards children aged 6 months to 6 years old, but are not limited to this age range.
Within a short time after the launch, RAPP packs have gained popularity with parents, teachers and library employees alike! With a high level of circulation in the first month (88 times circulated) and equally impressive levels the first 5 months of the pilot, RAPP packs are proving to be a valuable addition to OPL's literacy initiatives. Our colleague, Lise, told us of success using the packs in outreach:
"Greenboro Branch promoted them to the Clifford Bowey School for children with special needs, and some parents and teachers told me that they reserved some of the packs to take out. Parents and teachers from Clifford Bowey School mentioned that they loved the books in the packs."
RAPP packs are all about literacy, creativity and self-expression through the stories and the activity booklet and disks. The focus of the RAPP packs are to promote early literacy and learning to deaf children and their parents, but the packs also help support parents wishing to engage their children with or without disabilities.
By partnering with community agencies such as ALSO the Library directly supports parents in our communities in literacy based activities and resources for their children, making sure every child is ready for reading and learning.
If you would like to learn more about RAPP packs at the library, or our other accessible library projects, please contact us at: Accessibility.Office [at] biblioottawalibrary.ca. More information about ALSO is available on their website.

Tristene Villanyi Bokor is the Accessibility Librarian with Ottawa Public Library. As the accessibility librarian, Tristene is responsible for removing barriers across all 33 branches, collections and resources ensuring all customers of OPL have unrestricted use of their public libraries. You can contact Tristene at 613-580-2424 x32270 and Tristene.villanyibokor2 [at] biblioottawalibrary.ca.