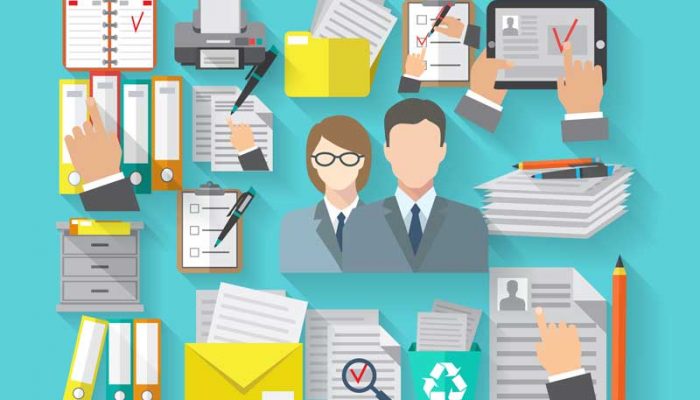 From Embedded Librarianship to Embedded Records Management
Over the past decade, the concept of embedded librarianship has really taken hold. Motivated by the pioneering efforts of embedded librarians, and inspired by their success stories, we undertook a pilot project to adapt this practice to another information profession: records management.
Programs at publicly-assisted universities in Ontario undergo a cyclical review every seven years. At the University of Ottawa, this process has traditionally been managed by two separate offices—one for undergraduate programs, and another for graduate programs. As part of an administrative reorganization, the task of managing the cyclical program reviews will soon be consolidated into a centralized office.
To prepare, the Quality Assurance (QA) team in the Faculty of Graduate and Postdoctoral Studies (FGPS) began to try to identify materials that would need to be transferred. It quickly became clear, however, that the information management (IM) practices employed at the FGPS are far from being best practices. The classification system in use is "homegrown" and had evolved in an ad hoc way over a 15-year period based on the preferences and practices of individual users.
What a Mess!
The main repository for storing information is a shared network drive, which is typically accessed using Windows Explorer. The QA team had over 60,000 files which were (loosely) organized into eleven levels of folders. No naming conventions had been applied. Not only did individuals use their own cryptic naming systems, some employees named files and folders in French, while others used English, thus necessitating a search in both languages. There was also no version control mechanism.
Help Us, Please!
While the FGPS does have a small information technology team, its members are not IM specialists. Similarly, the University's central Information Technology unit has a mandate is to leverage IT to provide solutions. While IT may contribute to improving IM practices, it cannot provide a comprehensive solution. Rather, a well-thought out classification system, naming conventions, version control, a retention schedule, and training in best practices, are also required.
The University Archives has a mandate to promote and support sound IM practices; however, it employs only two archivists and a single records analyst to serve the entire university community, including assisting with the management of both physical and electronic documents. While the records analyst was able to provide some very general information, he was not able to provide customized service.
The next obvious choice was to hire a consultant. The consultant librarian model is well-known and offers many advantages, such as mobility, proactivity, energy, and focus. However, the consultant may not develop a strong knowledge of the team's work and may not feel a responsibility for overall team outcomes. Not viewed as a true member of the team, the consultant's advice is usually only sought when team members feel they need specialized expertise.
In contrast, embedded librarians can contribute more by offering customized, specialized, value-added information management and analysis. Embedded librarianship, when fully developed, embraces a strong, ongoing working relationship between the librarian, team leaders, and other team members, along with a sense of shared responsibility among all for outcomes and achievements.
The embedded librarian often contributes novel and useful insights and solutions to team problems that go beyond the expected bounds of the librarian's role. The embedded librarian combines proactivity and energy with strong working relationships, close alignment with team goals and objectives, shared responsibility for outcomes, and full membership in the team.
The Vice-Dean of the FGPS manages the QA team, and she is also a professor at the School of Information Studies. She felt that the model of embedded librarianship held great promise for the information professions at large, and so she prepared a business case and successfully pitched the idea of embedding a records manager within the QA team. It was approved by the senior management team as a four-month pilot project.
Modelling Success
The literature on embedded librarianship, as well as conversations with embedded librarians, offered numerous suggestions for how to make such experiences work successfully. This table summarizes some key criteria for success and explains how these were implemented in the pilot project.

[Table: Criteria, Observations, Process]
How Did We Do?
From the point of view of addressing the IM needs of the QA team, the pilot project was a success. The number of active files stored on the shared drive was reduced by approximately 50% by deleting duplicates and older versions and archiving inactive files. The number of levels of folders has been reduced from eleven to five. A naming convention, which includes a method of indicating versions, has been developed and applied. Moreover, the project was completed on time and on budget.
Undoubtedly, similar results could have been achieved by hiring a consultant; however, there were added benefits that resulted from embedding a records manager within the QA team:
By being a fully-integrated team member, the embedded records manager truly understood the work of the QA team. For example, while learning about the cyclical review process, he helped the team to analyze and map the process more clearly. This highlighted a number of inefficiencies, which they could then correct (e.g. doing tasks in a different order, streamlining overlapping tasks, reallocating responsibilities).
As he worked with to develop file naming conventions, the embedded records manager was able to alert the QA team to terminological inconsistencies in their documentation. As a result, the team developed a glossary and style guide and now produce clearer communications which generate fewer questions.
In addition to provide formal training on the new classification system and naming conventions, the embedded records manager was available to answer questions on-the-fly. Some of the resulting conversations led to refinements in the system as part of an iterative process.
Neither the records manager nor the other team members saw his role as being limited to the formal IM job description. As a result, he was willing and able to bring other information professional skills to bear for the overall greater good of the team (e.g. data visualization techniques, search filter refinement). While a consultant may have possessed these skills, it is unlikely that either the consultant or the QA team would have thought to work together in these ways. Rather, it was as a result of the close relationship that these opportunities presented themselves, and that all team members felt comfortable pursuing them.
Perhaps the most convincing evidence of the pilot project's success is that, based on the overwhelming positive feedback from all involved, the position has been extended for another nine months so that the embedded records manager can continue his work with other sectors within the FGPS.
Concluding Remarks
In 2009, Martin Kesselman and Sarah Watstein wrote an article for the Journal of Library Administration (49:4) entitled "Creating Opportunities: Embedded Librarians," in which they issued a call to action to the LIS community:
"our intent is to encourage readers to explore new embedded roles for all types of libraries and for librarians in these various settings. Successfully embedded libraries and librarians demonstrate the many ways it is possible to transcend traditional roles and underscore the unique value we add as institutions and individuals."
We are grateful to the librarians who pioneered a wide variety of embedded models and shared their experiences, which inspired us to adapt the concept to records management. We consider our own pilot project with an embedded records manager to have been highly successful, and we hope this discussion of our experience will contribute to a broader understanding of embedded information professionals.
Lynne Bowker is Vice-Dean of the University of Ottawa's Faculty of Graduate and Postdoctoral Studies, as well as a professor at the School of Information Studies. Email: lbowker [at] @uottawa.ca
César Villamizar (MIS 2015) is a recent graduate of the University of Ottawa's Master of Information Studies program. Throughout his professional career, César has been involved in numerous roles evaluating and managing information systems. He is currently working as an embedded records manager for the University of Ottawa's Faculty of Graduate and Postdoctoral Studies. Email: cvillami [at] uottawa.ca