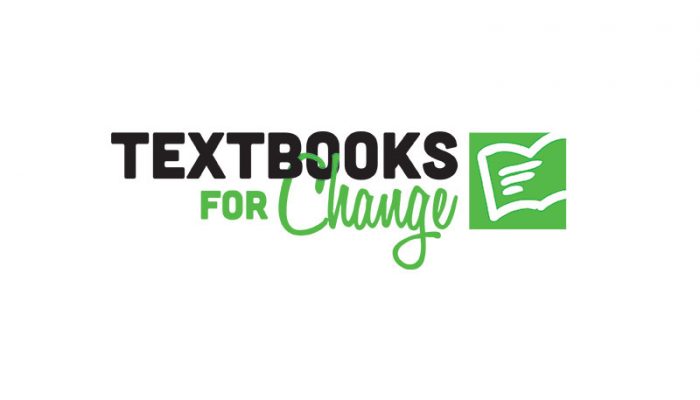 Textbooks for Change: Creating an Impact with Used Textbooks
"One man's junk is another man's treasure." In 2013, that became more than just an old saying for Chris Janssen, then a student at Western University in Ontario, Canada. Looking for a new way to raise funds for Western's Shinerama campaign, Chris noticed that many of his peers had stacks of old textbooks sitting in their dorm rooms. Chris ran a small textbook drive, and by reselling the books to younger students, raised $500 for the initiative.
It wasn't until Chris taught a course in Rwanda at the end of his university experience that the idea of Textbooks for Change was fully formed. While students at home had an abundance of high-quality educational materials, the situation was much different in East Africa. "I saw multiple students sharing a single photocopied textbook to learn in class or reading off material published before the 1980s," notes Janssen. Chris took these lessons back home and with his co-founder Tom Hartford, launched Textbooks for Change into the thriving social enterprise it is today.
By collecting donated textbooks in dropboxes, Textbooks for Change creates an amazing impact for students and campuses around the world. They now work with 25 post-secondary campuses around Ontario, including 18 OCULA libraries.  To date, Textbooks for Change has donated 52,000 textbooks to campus libraries in East Africa, provided over $150,000 in donations and micro loans, and reused and recycled 89,000 textbooks.
In Canada, librarians are connecting with students to make the library the go-to destination for creating an impact with educational material. Denise Smith, an Education Liaison Librarian at McMaster's Health Sciences Library, notes that the enthusiasm from McMaster's students has been so high that their dropbox will overflow with donated textbooks. Smith believes, "it's a nice reminder that the simple act of hosting a dropbox, which requires little to no effort on our part, can have a significant impact." Robert Glushko, a librarian at the University of Toronto, echoes the sentiment: "it's rare when a project does so much good while taking so little effort on the part of the University."
In East Africa, the donated textbooks fill a major need for campus libraries that are often under-resourced and under-funded. Textbooks for Change's most recent donation of over 25,000 post-secondary textbooks and journals to Moi University was valued at $500,000 CDN. Gabriel Simiyu, an MBA Candidate at Moi, thanked Textbooks for Change on behalf of the student body stating, "the donation of books has changed our studies as the student to book ratio has drastically improved!"
For a growing campus with an enrolment of 24,574 students, these textbooks will go a long way. Upon receiving a donation of 12,000 textbooks, Wubshet Bekalue, a Dean at Addis Ababa University (the first Textbooks for Change donation school), said "I have to thank everybody who sent these books to us because they are very much valuable. Frankly speaking, 90 percent plus of the books cannot be found here. So you understand what it means to the people here."
Textbooks for Change has come a long way since its inception at Western University. But their goal of providing affordable and accessible educational material to students around the world is stronger than ever – whether that's donating educational material to campus libraries in Kenya or selling an affordable used textbook to a student in Canada.
---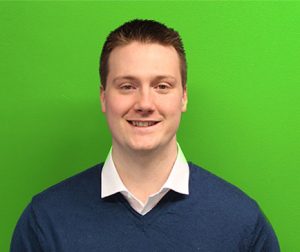 Adam Frye is the Director of Business Development at Textbooks for Change. His role is to find key partners and expand Textbooks for Change's geographic reach. Mike Ridley (Open Shelf, Editor-in-Chief) interviewed Adam about these initiatives and about future plans for Textbooks for Change.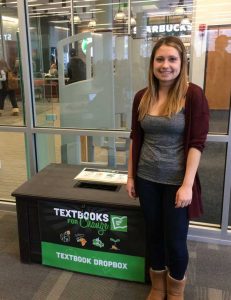 Cori Moretti is the Textbook for Change Ambassador at the University of Guelph. In this interview she speaks about her role, responsibilities and the impact the program has had on her.
---
Thanks to the support of students, librarians, and professors around Ontario, the social enterprise now hopes to collect 100,000 textbooks by the end of this semester. To help them reach their goal, you can host a dropbox in your library by emailing info [at] textbooksforchange.ca.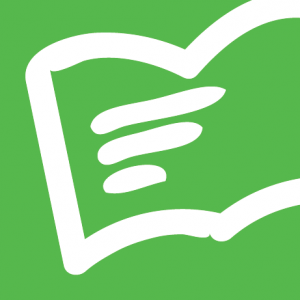 Brady Burke is the Marketing Director at Textbooks for Change, joining the social enterprise at the end of 2014. He is responsible for all student textbook drives, charity partnerships, and spreading the word about Textbooks for Change. He can be reached at brady [at] textbooksforchange.ca.