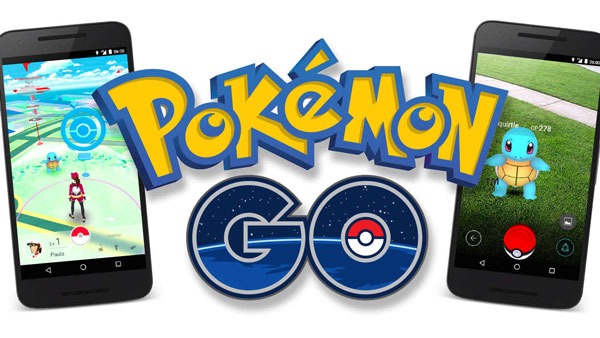 Pokémon GO! 7 Ways a Library Took on a Phenomenon
Did you get caught up in Pokémon GO! fever? While the pace was frantic, Halifax Public Libraries was able to stay astride, and we used it as an opportunity to try new things to engage the public.
1. Confirm what information is out there
First, we needed to know whether the branches were gyms or PokéStops. To do this quickly, we got the branches – and customers – involved.
Put a call out to branches asking them to confirm their status as a PokéStop or a gym in the app. It will confirm information needed and is a way to encourage staff participation and awareness.
Ask your younger customers. Give them a chance to be the experts.
2. Offer staff options for engagement
As a system of many independent branches, we had to quickly get everyone involved and acting as one.
Establish branch contacts.
Encourage all staff to try the game.
Open the door to suggestions.
Once we confirmed the status of our branches, we focused on directing people to them.
3. Get on the map
While we could have produced our own interactive map, we found a crowdsourced, Halifax-specific  Google map that showed gyms and PokéStops in the area.
Add missing branch locations.
Correct details for those already on it.
4. Advertise libraries as trainer-friendly spaces
Make posters for branches
Design slides for digital screens.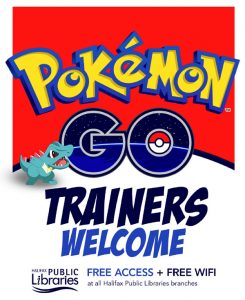 5. Create a key online resource
Because there were a thousand different places to go for information, we wanted to make a one-stop portal to help the public find important details.
Write blog post for the Library's website, including:

A link to the Halifax Pokémon GO! map,
A list of our branches with their statuses as stops or gyms, and
Information for parents regarding safety and privacy considerations.
6. Act on suggestions a.k.a. The Lures Plan
When some programming staff contacted us about the possibility of dropping lures – basically bait for Pokémon – at their PokéStops, we developed a plan that was structured but flexible.
Provide branches with $25 iTunes cards so they could purchase in-app some Pokecoins (the currency of Pokémon trainers) to buy lures.
Drop lures via branch Pokémon GO! accounts.
Post 'heads up' tweets.
Drop lures at nearby PokéStops when off-site for outreach activities.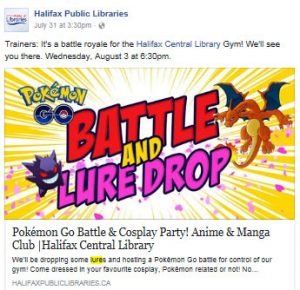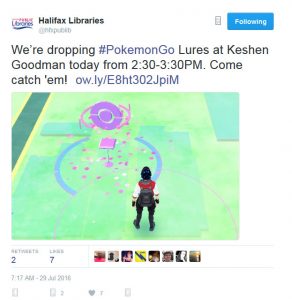 7. Remember access and the digital divide
Many of our customers own mobile devices, but not everyone.
Install the Pokémon GO! app on all tablets in our iPad kits for sharing across the system. Each kit includes five iPads loaded with apps to support programming (e.g., stop motion and green screen photos) and can be booked by branch staff.
Make it easy for staff to develop outreach programs, host a Pokémon hunt, or plan whatever activities they felt would appeal to their customers.
We learned a lot through our Pokémon GO! experience. We tried new approaches and programming ideas. We developed a model for the new world of apps and in-app purchases. With any luck, it will prepare us for the next global gaming phenomenon – whatever that might be.
Kelli WooShue is eServices Manager for the Halifax Public Libraries. While she loves technology in general, her particular interests are applications for new technology in library settings and accessibility. Kelli can be reached at wooshuk [at] halifax.ca.