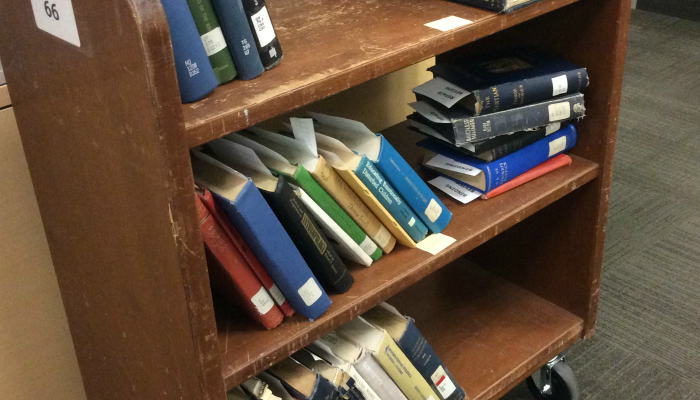 Carro, transporta libros or book truck: Navigating library stacks in two languages
My colleague Isaac Fierro and I attended a one-day "librarians as idea barristas" symposium last June. Co-hosted by the libraries of Carleton University Library (where we both work), the University of Ottawa, L'Université du Québec en Outaouais, and Library and Archives Canada, the day brought together folks from both Ottawa and Gatineau to share ideas on a range of topics.
We enjoyed the good presentations (including one from Shelagh Paterson), good food and good conversations—in more than one language. At one point, Isaac and I were chatting with colleagues from UOttawa and L'Université du Québec and I asked them about differences in library terms, such as stacks … the usual "How do you say this in this language or that language?"
As a native Spanish speaker, Isaac realized that he was familiar with library technical terminology in English but not necessarily his mother tongue. One thing led to another and here's our follow-up conversation about navigating a library in your second language.
Our conversation reminds me not to make assumptions, such as "Isaac knows specialized library terms in both languages." English dominants the library world, so for our bilingual (trilingual, etc.) colleagues, learning library jargon in one context can sometimes mean getting a bit disconnected from ideas and culture in another.
And I think I will start calling book trucks transporta libros: Just sounds so much better.
---

Isaac Fierro (left) and Martha Attridge Bufton (right)
Carro, transporta libros or book truck: Transcript
Music credit: Squire Tuck, A Mexican love affair on Free Music
---
Martha Attridge Bufton (MA, MLIS, Graduate Certificate in TBDL) is the Open Shelf editor-in-chief and a member of Editors Canada.
Isaac Fierro is a stacks coordinator at the Carleton University Library.