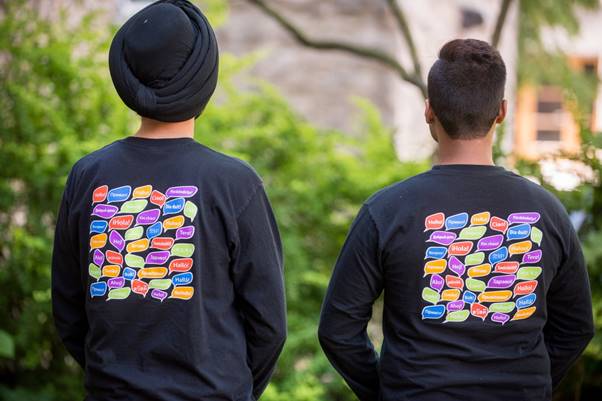 Organizational renewal at Queen's University Library
In 2014, Queen's University Library embarked on a public services review to determine how best to work within our resources while fulfilling our mandate and moving towards our vision. The review followed an appreciative inquiry process and resulted in the following recommendations:
Integrate service points (one desk at each location instead of several)
Create a unit to manage all service points
Optimize technology for better service delivery
To implement these recommendations, the library created a charter for the Service Point Development project.  The Service Point Development project's goals were to:
Determine the kinds and levels of service that library service points would provide
Identify the staffing requirements for library service points
While the Service Point Development Project undertook the review of tasks, services and staffing levels across the library, the Office of the Vice-Principal & University Librarian created a new organizational division to manage service points.  The new unit was called Information Services (IS) and I was appointed as Head in April 2015.
In May 2015, staff assigned to the new unit received notice of reassignment with a starting date of August 1st for their new roles.  The assignments included new roles such as Reserves, Technology, and Interlibrary Loan Coordinators.  Reference Assistants would be cross-appointed to their faculty units (Health Sciences, Humanities and Social Sciences, Engineering and Science, Education, and Law) and Information Services.
Over the summer of 2015, the library closed the Service Point Development Project, and Information Services took on the tasks and goals as part of its overall operations. As a new division, Information Services reviewed workflows at each service point and examined what was working, what could improve, and what could cease.  We undertook this assessment in late September and again six months later to determine whether anything had changed.   As to what was going well six months in, staff indicated that:
Communication had improved
Nametags helped with customer service
Staff were able to see the bigger picture (the library as part of the university)
Staff took pride in their work
Regular meetings were being held
Coverage requests were being met
Staff also commented on what could be improved, noting that:
Cross-training needed to have clearer objectives/responsibilities
Reserves required more staff and streamlining
The collection of statistics at all service points needed to be streamlined
We also agreed to cease the following tasks altogether:
Collecting call slip statistics
Handling cash at some locations
Focusing on wait times at the desks
With the assessments mentioned above, the library's new service philosophy and, most recently, the library hours principles, we began cross-training staff on reserves (physical materials and Ares, our eReserves management system) and interlibrary loans processing. Upon seeking feedback from our users, and reviewing our circulation, reference and gate count statistics, we further implemented equal rotation of weekend and evening shifts for all staff in Information Services.
In addition to the changes to full-time staff, we also made some adjustments to the student staff cohort.  Student assistants who reported to Information Services were merged with the Queen's Learning Commons (QLC) student assistants, and their training included QLC, customer service and service point training (e.g. circulation, retrievals, etc.). This new cohort would not be responsible for stack maintenance. Instead, they would provide peer-to-peer help at our service points when needed (mostly evenings and weekends) and help with all types of questions and requests at service points.  Stack maintenance would now fall within the Collection Development and Assessment division (now known as Information Resources).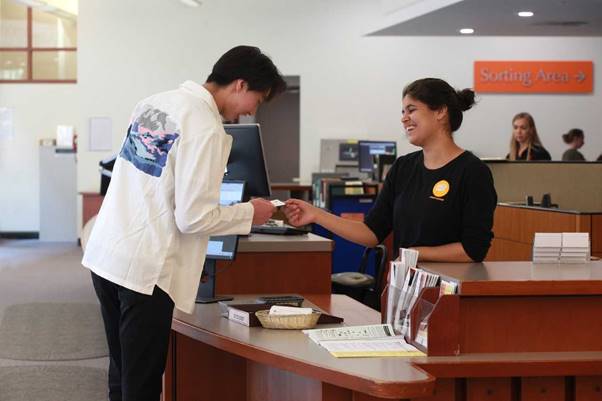 Since the Information Services division was created, the team has completed projects such as purchasing a scheduling software product to schedule staff and student assistants (2016), setting up self-service checkout at our Law Library service point (2017), welcoming staff from the Adaptive Technology Centre (May 2017) and from the Open Scholarship Services division to our team (September 2017), rotating staff evening and weekend hours at all service points (September 2018), reviewing workflows at each service point (2017-2018), applying the library hours principles at all service points (Spring 2018), hiring an Information Services Supervisor (April 2018), hiring 3 new technicians for our team (December 2017 and September 2018), and creating an Ask Us Reference Assistant position for Information Services (May 2018).
The last few years have been an exciting time at Queen's Library and academic libraries as a whole.  As libraries and services evolve, I look forward to our role as leaders of customer service par excellence for our community.
Nathalie Soini is Head of Information Services and liaison librarian for French Studies and Languages, Literatures, and Culture at Queen's University. Normally, she can be reached at soinin [at] queensu.ca. Nathalie is currently on a research leave at the University of Western Australia (Perth, WA).  Please feel free to email her at nathalie.soini [at] uwa.edu.au.

Cover image photo credit: Garrett Elliott.