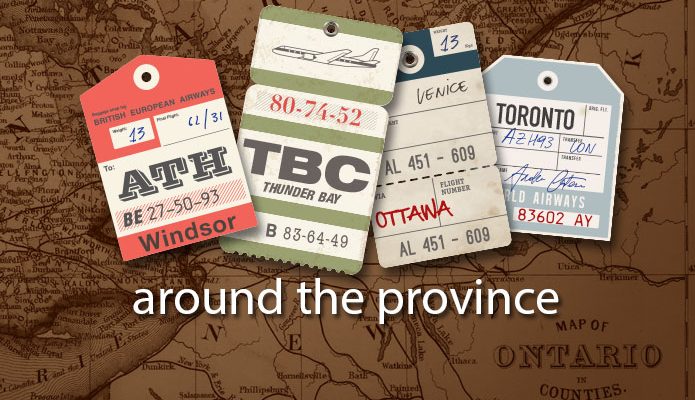 By Aleksandra Minic and Robert Smith
What happens when retro becomes modern and vintage is more than just the "cool past?" Well, you might just get a retrogaming night at the Carleton University Library where everyone has the chance to explore the world of videogames from past to present. It's game studies with a twist and an opportunity to make sure the games collection is visible and well used.
Carleton University Library (CUL) and the Carleton University Discovery Centre (DC) collaborated to host a series of vintage game nights during the December 2018 exam period. Vintage games are currently a strategic priority for CUL and we saw this as an opportunity to share our collection with our students and the greater Carleton community in a way that both helped them learn and also provided some time away from the stress that can build around exam time.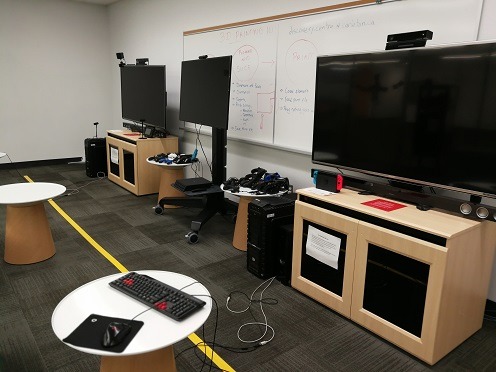 Several gaming consoles have been donated to CUL over time—Atari 400, ColecoVision, Commodore VIC-20, Nintendo Entertainment System (NES), Sega Genesis, and Super NES—and we were able to have the Atari and Nintendo systems up and running for the event nights. We purchased a Retro-Bit RetroDuo Portable handheld console and a Retro-Bit Super Retro-Cade plug-and-play game console. These consoles have emulators and were able to play the original software. The DC already owned the Atari Flashback 8 Gold Deluxe console. Three students were also hired to run the event—one for each screen we made available. We were able to engage our students with the library beyond the stacks and databases by throwing in a couple pairs of virtual reality headsets.
We used social media, and the library's and university's communication channels to publicize the event, and student clubs were also notified. Posters went up around the Library and inside the Library we put them up in the washrooms.
The turnout varied for each of our sessions with as many as 20 students showing up per night. The idea was to encourage students to stop by and play for 10–15 minutes during exams. The closer we got to the end of exams, the more people showed up. Some played in clusters and returned to play together again.


Located on the 4th floor of CUL, the DC is an area for collaborative undergraduate study and research that is outfitted with accessible and ergonomic furniture and technological tools. The Centre provides a stimulating environment for collaborative and creative work for all members of the Carleton community, but especially for undergraduate students. Its aim is to provide tools and resources to encourage collaboration, as well as to be a venue for exhibitions, talks and discussions. It is a flexible and inspirational learning space and evolving over time for the changing needs of users.
Program areas reach out to undergraduate students who have an interest in taking their degrees to a further level of engagement and opportunity. The Centre provides support and assists in the development of experiential learning through undergraduate research and immersive learning across the University's undergraduate programs.
The CUL website also has more information about our Games Collection.
Aleksandra Minic is the Discovery Centre Administrator at Carleton University. She can be reached at aleksandra.minic [at] carleton.ca.
Robert Smith is a Subject Specialist at Carleton University Library.  He can be reached at robert.smith [at] carleton.ca.