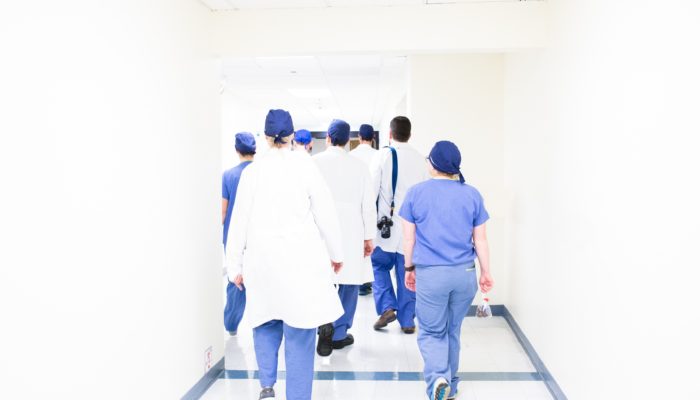 Each day is interesting: Supporting research and innovation at a regional health centre
Kimberley Aslett did not expect to work at the Southlake Regional Health Centre. After all, her interview for the position of Health Informationist was only supposed to "be a trial run" in her search for a job where she would be part of a team of librarians. However, three years later, she has no regrets about becoming the lone health librarian in her local hospital. She revels in a job where every day is different because her role is to directly support health research and innovation.
The Southlake Regional Health Centre (SRHC) is a community-based teaching and research hospital located in Newmarket, Ontario, about 55 kilometres north of Lake Ontario. As Debra Dobson (Chair) and Arden Krystal (President and CEO) state in the 2018–2019 strategic plan, the SRHC is designed to support patients "from birth to end of life," and staff provide both local as well as regional services such as cardiac and cancer care. Kimberley did not really know where Newmarket was when she applied for the position of Health Informationist in 2016, but she was looking forward to a change of role in her next job.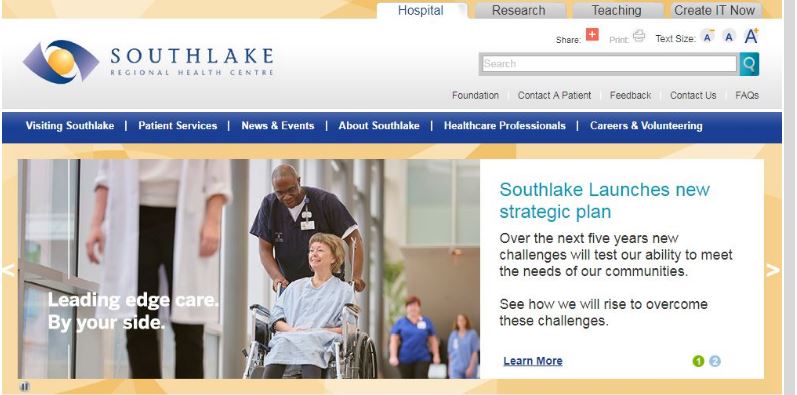 "I imagined that in moving away from Sault Ste. Marie to another position, I would head to either Ottawa or Toronto to work in a setting with more librarians. I had been working as a solo librarian for 13 years at that point, and it just seemed more likely that I would move into a team position," she says. With her AHIP (Academy of Health Information Professionals) senior membership and a wealth of teaching experience, an academic setting seemed more probable. However, she became more excited about the job during the interview, in part because the focus of the work aligned well with her interests and experience as a health sciences librarian. 
As Aslett explains, the SRHC librarian reports to the Director of Research and Innovation, which is "rare" for a community hospital. As such, her role as a hospital librarian is "varied and interprofessional" because she has opportunities to "try new things" related to the research and innovations that SHRC medical staff are developing to improve health care delivery.
Aslett is responsible for providing services to a user group of approximately 5,000 health care professionals, managers and learners. Like many of her library sector colleagues, she provides access to and training on a wide range of electronic resources to support evidence-informed practice and education. Aslett is continually evaluating and improving these e-resources, in addition to maintaining a print collection of reference materials, and she collaborates with other health librarians on consortial purchases. Aslett finds that she learns something new every day because her users are continually asking complex health-related questions that take her in new and unexpected directions. 
Last month, for example, she was asked to do a literature search on the management of a particular type of infection in hip joints, and a specialist physician will use this material to develop rounds for his colleagues. She also had a question about the most used foreign languages in the region (Mandarin and Cantonese, followed by Farsi and Russian), which will be used to decide what resources to order in other languages for patient education. Plus, she has helped students in the SRHC Summer Research Program navigate the medical databases to search for sources for their projects.  
Medical staff appreciate the services Aslett provides. Dr. Glen Hanna is the head of anesthesiology at SRHC, and he benefits from regular access to the latest medical literature that often is published in journals to which he does not subscribe.  
There are a number of people/organizations that I follow on social media. They send out references to their research but generally only release their abstracts/headlines on social media, so I don't get a full understanding of what they actually did, and how it might apply to my patients," Hanna says. "Kimberley is able to track down these full articles for me, so that I can thoroughly look at the details. This happens about three or four times per week." 
Most recently, Aslett has provided Hanna with articles related to patient safety with regards to medication errors, summary of anesthesia and allergic disorders, as well as how intravenous fluid might reduce nausea and vomiting. According to Hanna, all of these articles have the potential to influence how he and his team give anesthetics and to have positive impacts on patients' lives.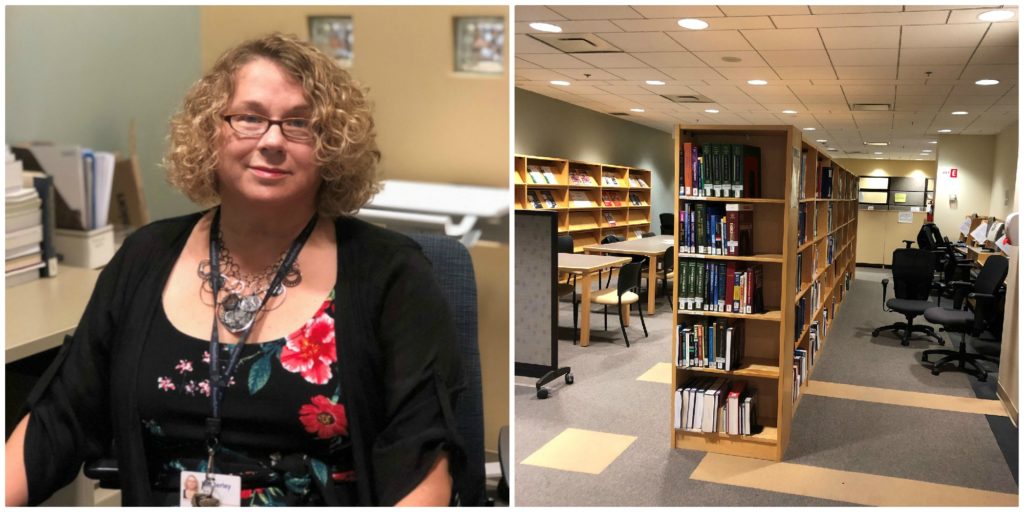 Aslett has expanded her role to include liaison work as well as more traditional reference services. She is currently the staff liaison for the Patient Family Resource Centre (PFRC) in the Stronach Regional Cancer Centre. In this role, she manages operations and works with a team of 10 volunteers as well as with members of the Patient Family Education Committee. In ensuring that the PFRC is responsive to user needs, Aslett has developed a successful partnership with staff at the Newmarket Public Library (NPL), a partnership that "came at a good time." Aslett and her team had just finished refreshing the existing library space and weeding the collection, which includes medical and health reference books, pamphlets and magazines. As a result, they had "a (one!) free shelf unit." 
Out of the blue, NPL Strategic Projects Officer Biagio Rachiele contacted Aslett to see if there were opportunities to deliver NPL services at the hospital site. As Aslett explains, "The open shelf became an NPL shelf and we created a very flexible agreement to have NPL books available to our hospital visitors and staff, and to promote access to online resources." In return, Rachiele helped Aslett deliver a session at the NPL called Finding reliable health information. Aslett is excited to deliver health literacy information to people in the community and "delighted to have a collaborative relationship with the NPL." 
And the PFRC volunteers know that patients are making use of the materials available through the centre.
As one user shared with volunteer Maria Conduit, "Once you get passed the shock of a cancer diagnosis, you have a million questions. It's nice to have a place to go to explore further information."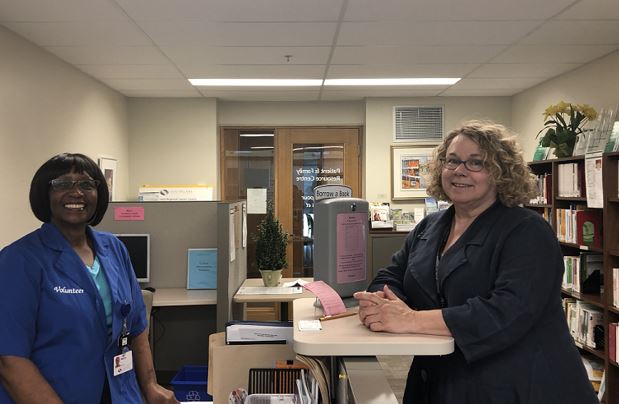 Health literacy is a "personal passion" for Aslett, and she is already pursuing other partnerships with local libraries, such as the Books for Babies Program, which will bring materials from the East Gwillimbury Public Library, NPL and Aurora Public Library to patients in the SRHC prenatal program. She believes that such innovative programs help to break down barriers that patients and their families face when trying to access clear and useful health information. As Aslett points out, "The research shows the importance of health literacy to health outcomes, and our current focus on person-centred care in our hospital and others, is the best possible direction for integrating information services to our clients."
---
Kimberley Aslett is the Health Informationist at Southlake Regional Health Centre in Newmarket. Her position allows her the opportunity to work on projects relating to her passions for health literacy and patient education. Her stash of fabric and yarn is becoming a bit oppressive, but she remains hopeful. Kimberley can be reached on LinkedIn.
Martha Attridge Bufton (MA, MLIS, Graduate Certificate in TBDL) is the Open Shelf editor-in-chief and a member of Editors Canada. Martha is the Interdisciplinary Studies Librarian in Research Support Services at the Carleton University Library and her research interests include game-based learning, writing communities and culturally responsive pedagogy. She can be reached at martha.attridgebufton [at] carleton.ca.
Feature and slider photo by Luis Melendez on Unsplash