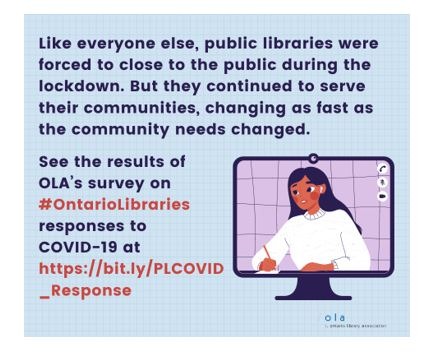 Care calls, PPE production and more: How Ontario public libraries have responded to COVID-19
By Sarah Roberts, with graphics by Meagan Anderi
While public libraries across Ontario have now begun the gradual reopening process, we know that when they were ordered to close to help reduce the spread of COVID-19 in March they remained very active. 
To learn more about how public libraries were responding and adapting to physical buildings closures, OLA issued a survey in March 2020. The survey tool evolved with the pandemic, and new questions were added periodically to capture the most current and relevant information available. The full survey report, available online now, summarizes key trends noted in survey responses received between April 1 and 30. For Open Shelf readers, we've compiled a few highlights of the ways in which public libraries responded. 
---
       Survey highlights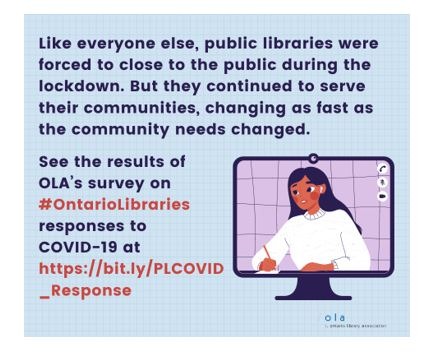 Like other institutions, public libraries were forced to close to the public during the lockdown. However, they continued to serve their communities, changing as fast as the community needs changed.
See the results of OLA's survey on #OntarioLibrary responses to COVID-19.
---
Online programming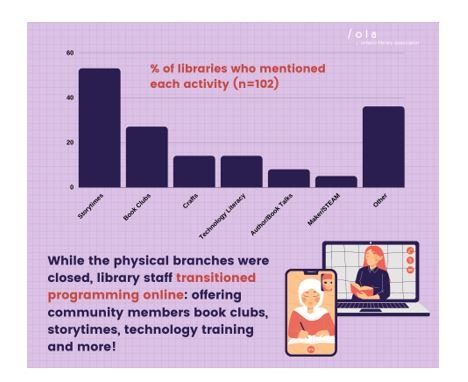 While the physical branches were closed, library staff transitioned programming to online platforms, offering community members book clubs, storytimes, technology training and more! 
---
      Care calls to reduce social isolation

Libraries are serving their communities in new ways. Many started doing care calls to vulnerable members of their communities, where library staff connect directly to patrons to help break social isolation and connect to other social services in the community as needed. 
---
Accessible health information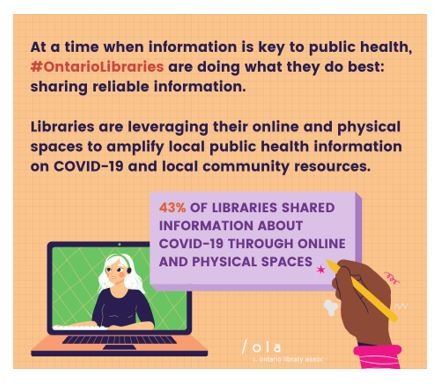 At a time when information is key to public health, #OntarioLibraries are doing what they do best: sharing reliable information. Libraries are leveraging their online and physical spaces to amplify local public health information on COVID-19 and local community resources. 
---
     PPE production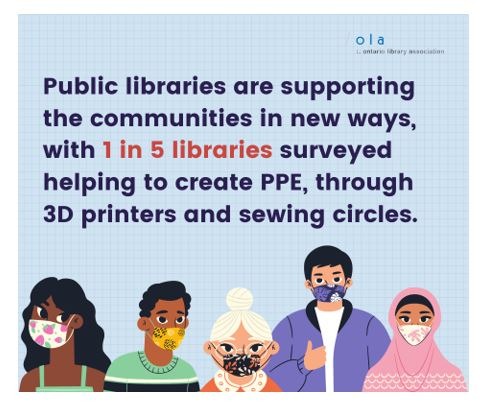 Public libraries are supporting the communities in new ways, with one in five libraries surveyed helping to create PPE, through 3D printers and sewing circles.
---
Digital cards to enable borrowing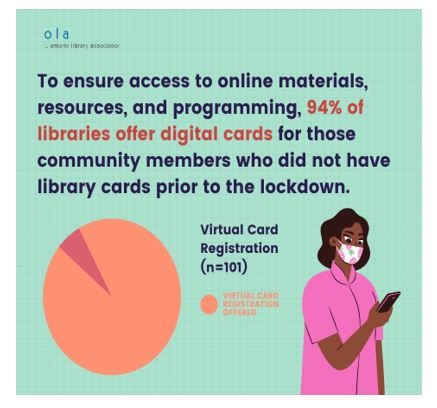 To ensure access to online materials, resources and programming, 94% of libraries offer digital cards for those community members who did not have library cards prior to the lockdown. 
---
    More e-collections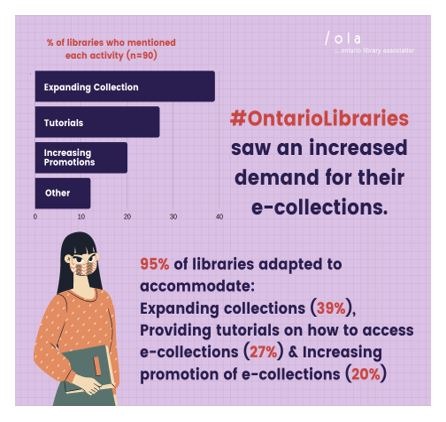 #OntarioLibraries saw an increased demand for their e-collections. 95% of libraries adapted to accommodate, by:expanding collections (39%), providing tutorials on how to access e-collections (27%) and increasing promotion of e-collections (20%). 
---
As the public health protocols for the COVID-19 pandemic continue to evolve, public libraries continue to respond in creative, innovative ways to meet the needs of their communities. For example, curbside pickup is a new service that has met with considerable success. The capacity to adapt is a strength of the public library system in Ontario.
---
Meagan Anderi is the OLA Marketing & Administrative Coordinator. When she is not making sure the small details of the office are organized, she is doing social media, graphic design and everything in-between for marketing. One of her proudest moments is being the only one in her Oscar pool group (and maybe even the world) to have Moonlight winning best picture. 
Sarah Roberts is the Advocacy and Research Officer at the Ontario Library Association. She works on OLA government relations and advocacy activities and with OLA's research committees. Sarah loves libraries, her house plants, drinks too much coffee, and is on a mission to find the best croissant in Toronto.