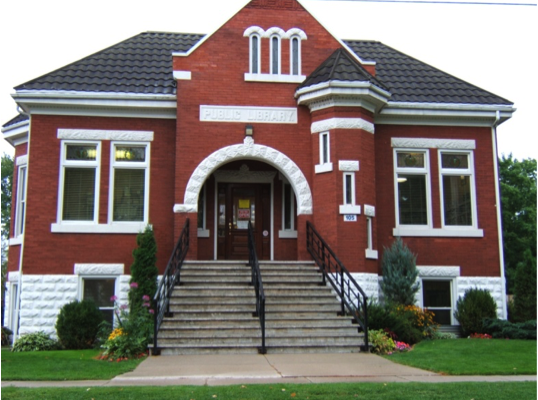 Carnegie Libraries: The Next Generation
Between 1900 and 1923 Andrew Carnegie's program of library philanthropy provided 125 library buildings in Canada, 111 of these in Ontario. Some — too many — have been torn down, and others retrofitted for uses other than library service. But many, almost 70%, still stand. They have passed their centennial anniversary and have been adapted to modern use.
Modern public libraries should
be accessible and user friendly inside and out
have seamless integration of technology
include more space for people and computers
be flexible and have room for expansion
include comfortable seating with fireplace
(Anne Marie Madziak "22 Recent and Enduring Design Trends in Ontario Public Libraries").
Most Carnegie buildings have similar designs – square stone or brick edifices with multiple sets of stairs, their similarity in design a function of the preferences of the times, not mandated by Carnegie.
The elevated entry paid homage to the concept that libraries were institutes of higher learning, but are incompatible with today's accessible standards.
Flexibility, technology and accessibility and even the addition of "more space" are difficult concepts to integrate into a building designed more than a century ago. Small spaces with solid walls are not "flexible", and the original buildings did not accommodate electrical wiring and computer cabling. An addition – often larger than the original – is difficult to integrate and still maintain the uniqueness and symmetry of the original design.
The only part of the original design that meets modern needs is the fireplace, with, if space allows, comfortable seating.
Many century- old Carnegies in smaller towns have been successfully expanded, renovated and modernized, including Ayr, Bracebridge, Brockville, Dresden, Listowel, Owen Sound, and Mount Forest. A 2008 renovation in Mitchell (pictured above) almost doubled the size of the library and added gallery space.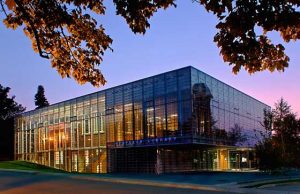 A spectacular renovation in Hespeler created an award winning design – Carnegie under glass. Brockville is one of the few old Carnegie buildings with a corner entry, a design feature that was considered wasteful, and discouraged by Carnegie secretary James Bertram in later years. The corner entry has since been closed off, and like many other old libraries, the new entry has moved around the side, and is at street level.
One of the more recent renovations, re-opened in 2012 is Harriston, in the County of Wellington. The $3 million expansion almost doubled the size of the original, and added meeting rooms, accommodation for the Harriston Historical Society and the Minto Arts Council, as well as making the building accessible for everyone. The renovation remained consistent with the original style, including a tin roof and stained glass windows in the addition.
Speaking of Harriston, Wellington County Chief Librarian Murray McCabe said:
"It's a revitalized building, and to think the investment lasted a hundred years the first time, and with this re-investment the building will last another hundred years."
Renovation and investment such as in Harriston will breathe new life into Carnegie heritage buildings for the next century, serving generations to come.
Rudi Denham has worked in public, regional and county libraries in three provinces for more than 30 years.  Since 2006, she has been CEO at St. Thomas Public Library.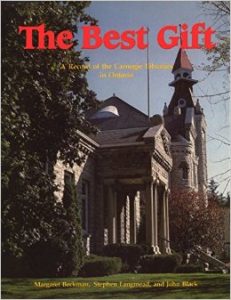 [Editor's Note: For more on this topic see The Best Gift: A Record of Carnegie Libraries in Ontario by Margaret Beckman, Stephen Langmead, and John Black].