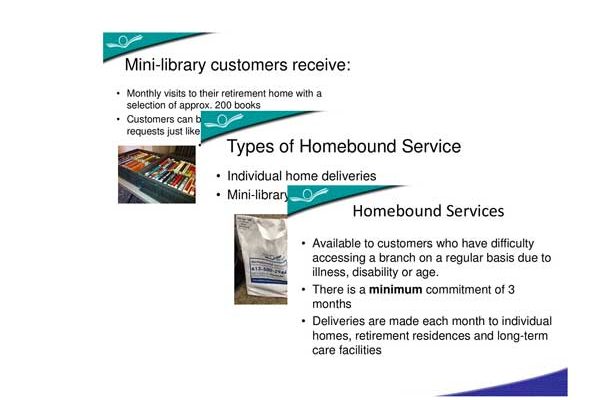 Privacy Concerns & Access to Information in Homebound Services
Homebound Services is a department within the Ottawa Public Library that selects and delivers library materials to customers who are unable to access a branch regularly due to age, illness or disability.
Many of our customers are older adults experiencing a decline in their health. As you can imagine, we develop relationships with many of our customers and we often notice changes in their health, and their ability to be independent, over the course of the years we are selecting and delivering to them. In an effort to respond to some of the situations we see on a regular basis, we designed a new intake process that respects their independence, provides community supports, and ensures that we are also compliant with the Ontario Privacy legislation.
The Previous Process
Previously, during our intake process, we would read potential Homebound Services customers our privacy statement based on the Municipal Freedom of Information and Protection of Privacy Act. This statement was intended to assure clients that their personal information is kept private, and only used in the daily operations of the library. We would also ask new customers if there was a contact person we could keep on file, but, due to a lack of specific consent given regarding the sharing of information, we were often unable to rely on these contacts to assist us in delivering services when the customer, and the Library, needed support.
Over the past few years, we have noticed an increase in calls from friends and family members, as well as care facility staff, asking questions about someone's account with us, questions about overdue materials, or wanting to sign up an aging relative or friend for our services. It's wonderful when friends and family are actively involved in finding services that their loved ones can benefit from, but we found that our existing intake process was not adequately responding to anyone's needs (the customers, family members, friends, or ours).
Telling a family member that is trying to assist with a customer's overdue notice "that due to privacy regulations we cannot share this information…" was not an adequate response, sometimes frustrated everyone, and was not sensitive to the needs of our customers.   It became evident that our team needed to create a new process in which we could share information, and work towards meeting the needs of our clients.
The New Processes
Many conversations were held with our City's legal department regarding these issues, and we developed new procedures for our intake process. Our new process involves explicit consent procedures to obtain verbal or written consent, and having discussions during the intake process regarding Power of Attorneys.
One of our first steps during our new intake process is to ask a new client if they have a person they would like to designate as an emergency contact. We ask them if they are willing to provide us with their contact information, and allow us to contact them if we cannot get in touch with them directly.
We also ask new customers if they have a Continuing Power of Attorney (POA) that is in effect.  If they do, we need to see a copy of the POA and speak with the POA in order to sign a customer up for our service. The person acting as the POA (by nature of the designation), has full access to the customer's account, and can act as a representative for them.
Alternately, if the customer does not have an active POA, there are explicit consent questions that we ask the customer at intake about sharing their information with designated people.  They can choose to give us permission for any or all of our three questions, which involve a) sharing information about their library account, including checkouts, and charges, b) authorizing a designated person to place requests for them and on occasion pick up materials for them,  and c) authorizing staff to contact their designated person about their library services.  We also have a written consent form that we can send out to customers, if they would prefer seeing the questions instead of responding verbally.
Balancing Privacy and Sharing
I think that our team (along with the assistance of the legal department) found a good way to balance customer privacy concerns with the sharing of information with family, or designated contacts with our new intake and consent procedures. We have already noticed that our intake process is simpler and that it ensures we are all on "the same page" from the beginning. We are getting the word out to organizations we partner with, in order to share this information with them as well. Lastly, we have shared our processes with our colleagues in the branches, who are now able to use them when a customer with these types of needs comes into a branch.
Charmaine Atrooshi (M.A) has been working in the Homebound Services department of the Ottawa Public Library for five years. Along with her colleagues, she selects books, audiobooks and DVDs for more than 500 customers a month, and provides readers' advisory services in person, by phone, and via email. She can be reached at Charmaine.Atrooshi [at] BiblioOttawaLibrary.ca.