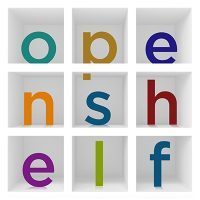 What's New in Open Shelf – April 2018
We put great store in being transformative—fundamentally changing how we think and what we do. So we owe a debt to folks like John Vincent, Ontario learning commons informationists and members of the WCAG (2.) working group whose commitment to equity and partnerships shift who we define as in or outside social, economic and political margins.
We also prize maintaining our roots, in libraries in small communities where meeting spaces may be limited but imaginations are not—whether such communities are villages or campuses.
In honour of both change and tradition, here's what we have for you this month (in order of publication):
Mark Weiler, a web and user experience librarian, tackles big changes to web accessibility in Crossing the WCAG 2.0 threshold.
Nikolina Likarevic, an Open Shelf digital editor, explores the role of learning commons in public schools in Powerful IL partnerships.
LGBTQ+ is back with a twist: Amanda Wilk and John Vincent take on respect for anonymity and links to John Pateman's interview with  John V. that covers the universe (of libraries) and beyond in Open for All?
Small libraries are the backbone of the Ontario library system and as Kelly Thompson and Erika Heeson tell us, this means wearing Many hats and never shutting their doors.
And finally, InsideOCULA is back and includes an introduction to a zen den, the need for quality assurance reviews and the new president's address.
And we have two surveys for you: Tell us what you find most challenging about conforming to WCAG (2.0) and, if you work in a rural or small library, share your rewards and challenges.
We hope you enjoy the show.