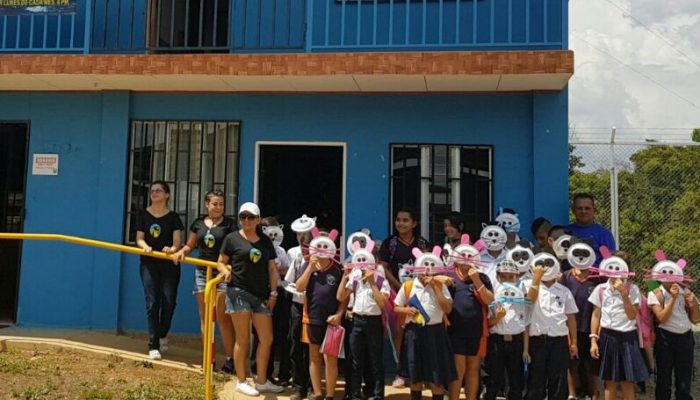 La Casita Azul: A Unique Project with Significant Consequences
As a result of a short but exciting conversation in 2014, the idea of a York University library in Costa Rica was born. After a reconnaissance trip to southwestern Costa Rica, careful planning, and determination, Dana Craig and Tom Scott from York University Libraries successfully opened La Casita Azul on June 2015. La Casita Azul (or the Little Blue Library, as it was originally known) is a unique education and learning resource centre that supports York's increasing socio-environmental research, education and community outreach within Costa Rica. This project is the proud recipient of the 2017 OCULA Award for Special Achievement.
A Brief History and Background
Through generous donations, York's Faculty of Environmental Studies (FES) created the Las Nubes Project in 1998. This evolved into a massive achievement for York and FES, and in 2016 the EcoCampus building was opened in Costa Rica. The Semester Abroad project is also set to start in Spring 2017. These achievements point to an environment conducive to experiential, global and community-centered education. And what is education without a library? Due to the idea that the library is a hub of knowledge, learning and community, La Casita Azul is now operating in Santa Elena, Costa Rica, spearheading the responsible role of the library in an open-access and information-overload reality.  
What We Are Doing in Costa Rica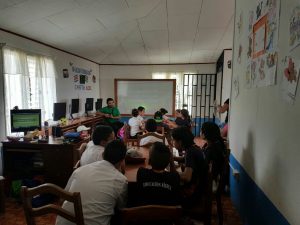 Through successful collaborations with FES, York University Library secured a shared budget of $10,000 per year for a three-year pilot to open the physical library, to hire a local library assistant, acquire relevant resources and to operate La Casita Azul. It provides research and educational opportunities within and about ecological areas in Costa Rica. Situated amid the local communities in Costa Rica, La Casita Azul supports and enhances York's EcoCampus in Costa Rica while playing an important role in research intensification, knowledge mobilization, community engagement, citizen science, research dissemination, engagement and outreach. Working closely with local community members and organizations, we oversee the day-to-day operations of the centre and play many other roles such as organizing patron-driven courses. Several locally-driven initiatives are also hosted by La Casita Azul.
La Casita Azul offers access to the internet, online/print resources, printing and a place to study. It will continue to grow and develop relevant print and online resources in English and Spanish, as well as continue to provide equitable access to relevant resources. To date, we have offered more than 10 courses for the local community, have connected York students with local resources and have facilitated the start of research projects in the area.
Over the course of the three-year pilot, this project has been strategically and progressively adding to resources and programming. In year one (2015), the primary focus was on developing community relationships and identifying local community needs and desires. In year two (2016), the focus was on developing programming aimed at the Semester Abroad/EcoCampus programs. In year three (2017), the goal is to deepen integration of the communities with York's programs, which ultimately will enhance the quality of teaching and learning and will provide an enriched experience for students. A proposal for sustainability will also be developed in order to ensure continued success.
The Importance of La Casita Azul
In an environment where open access is accepted but not widely practiced, the library has the responsibility of acquiring, promoting and providing adequate, relevant and accurate information to communities that benefit from interacting with information that matters to them. La Casita Azul is a bridge between academic research and the communities that benefit directly from this research. It also links researchers and local communities and provides a window into the academic world. La Casita Azul is a place where education and knowledge is transferred, bringing very disparate worlds together and enhancing community and collaboration.
Dana Craig is the Environmental Studies Liaison Librarian at York University, Toronto, Canada. Her work has revolved around teaching and advocacy in academia and her goal is to effectively integrate librarianship into higher education.
Tom Scott is currently Associate University Librarian for Information Services at York University, Toronto Canada. Tom's career of over 30 years has focused on introducing innovative services and also, as the History Liaison Librarian, supporting one of the most engaged history departments in Canada.