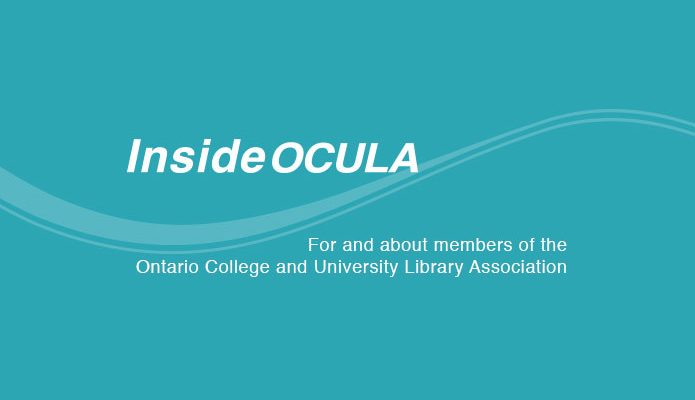 InsideOCULA newsletter: July 2018
With the arrival of summer, many of us will be looking forward to holidays, but summer months spent at work can also be a useful time to revisit projects or start new ones. In this month's issue of InsideOCULA, we look back at past successes and highlight renewed projects from the OCULA community.
In the second installment of the OCULA president's column, Melanie Parlette-Stewart advocates for the summer as a time for reflection and renewal, specifically through self-care, creative pursuits, looking for inspiration and learning new things.
Siobán Linnen's article Ontario colleges celebrate 10 years of askON marks the anniversary of a chat-based virtual reference service shared by a partnership of Ontario college libraries, and reflects on its development and success over the past decade.
Jacqueline Whyte Appleby's article Scholars Portal Books platform improves access for users and library staff outlines the advantages of the recent upgrade of Scholars Portal Books, an ebook platform shared by a partnership of Ontario university libraries.
Jennifer Toews' article Special [digital] collections make for special [digital] connections highlights the re-launch on a new platform of the University of Toronto Libraries' digital special collections.
We hope the articles in this month's issue inspire you to celebrate past successes and look toward future projects and experiences.  InsideOCULA will be back with our next issue in October.
---
Graeme Campbell is the Open Government Librarian at Queen's University and Editor-in-chief of InsideOCULA.  He can be reached at graeme.campbell [at] queensu.ca.