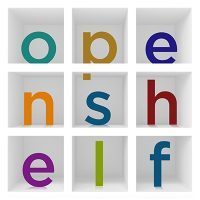 What's new in Open Shelf: July 2018
Values in action: This idea is the focus of a conversation about governance but of course it imbues all the materials written for Open Shelf this month … if not always.
This July, we are sharing feature articles and columns that are value-laden, from reflections on racial fragility to navigating the depth and breadth of the e-learning continuum, to being motivated by "do-it-yourself" learning opportunities, to thinking especially about language and power.
Plus, the InsideOCULA newsletter is back, just in time to supplement your summertime reading list.
Here are our features and columns (in order of publication):
In my editorial Call for proposals on language and power, I share the call for proposals from guest editors Jennifer Brown and John Pateman. Contribute to our special November issue!
Governance—how we organize and orchestrate decision-making in our libraries is the topic of Values in action: A conversation about library governance between OLA President Kerry Badgley and Wayne Jones, University Librarian, Carleton University.
White fragility is out there but what does it mean? Todd Kyle tackles this sensitive issue in his latest column, Safe spaces: Race & privilege.
The InsideOCULA team shares another valuable collection of articles on academic libraries.
Library staff don't always think of themselves as teachers, let alone e-teachers. But maybe we should. In this first installment of our new column Continuum: E-learning & libraries, Kasey Whalley and Prof. Mark Bullen define e-learning and how it could (and does) look in libraries.
No time to train? One solution could be self-paced education. Jodi Marr and Andrea Dunn share one such library-based program in Readers' advisory: Just-in-time training: DIY online RA training.
And take our poll: Do you think white fragility is a useful concept for thinking through issues of race and privilege?  Yes or no?
Have a lovely summer (our next issue will be published in September) and as always, we hope you enjoy the show.
Martha (Attridge Bufton)
Editor-in-Chief
Open Shelf