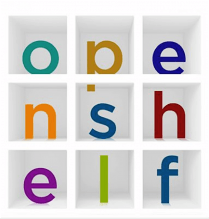 What's new in Open Shelf: February 2019
Happy New Year everyone! In our first issue of 2019, we welcome first time contributors:
Rhea Smith, writing solo for the first time for Open Shelf Rhea unpacks Afrofuturism
Deanna Nebenionquit, who looks at the last 60 years of First Nation public libraries in Ontario
and welcome back:
Michael McNally, this time he joins us for an article on the influence of telecommunications policy on the library field
Kasey (Mallen) Whalley, the multi-faceted nature of the e-learning experience is this month's focus in Continuum
Isabel Espinal, in her second installment of her series Inclusive librarianship she presents a perspective on white fragility
Amanda Wilk and John Vincent, who in the third article of their LGBTQ+ series note an international issue
John Pateman, with his latest Open for all? column in which he explores the need for intercultural competencies
The InsideOCULA team who brings us their latest newsletter full of academic library-related goodness
ABO Franco, who are putting out a call for submissions for their event in May
Our on-going game-based article contributions: this issue Amanda Wheatley and Ruby Warren are interviewed and they explore how games can increase learner attention and retention
Here's what we've lined up for this issue (in the order in which the articles appear):
Whither libraries in telecom policy? (Michael McNally)
Game-based learning (Amanda Wheatley and Ruby Warren)
Continuum: E-learning (Kasey Whalley)
Afrofuturism (Rhea Smith)
Indigenous libraries (Deanna Nebenionquit)
Inclusive librarianship (Isabel Espinal)
LGBTQ+ (Amanda Wilk and John Vincent)
Open for all? (John Pateman)
ABO Franco Call for submissions
We hope you enjoy this packed issue and look forward to hearing back from you! Don't forget to answer our poll, found in the sidebar of our homepage.
Martha Attridge Bufton, Editor-in-Chief
Nikolina Likarevic, Deputy Editor
Rashed Ahmad, Digital Editor
Devon O'Leary, Digital Copy Editor
Kelly Thompson, Digital Editor